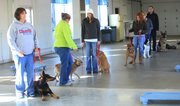 Who knew the right collar could make a dog more polite?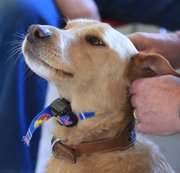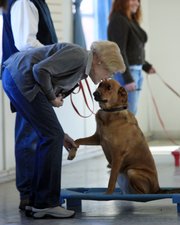 That's what Greg Lyon learned a few years ago, when he began using electronic collars to train dogs. He now holds classes using the collars as part of his Mutts and Manners dog training business.
"It's a very nonconfrontational type training," Lyon said.
While electronic collars might conjure up images of an animal being cruelly shocked, the collars feel like low-powered pagers, not live wires. When a button on a remote control is pressed, the collars buzz for a short amount of time. They are usually activated when an owner gives a command, as an extra signal to the dog.
"It's not used for any kind of correction. It's used to get the dog to pay attention, essentially," Lyon said.
In decades past, choke chains and pinch collars were all the rage for dog training. But those collars lack consistency because a person will always pull on the collar slightly differently.
"The dog doesn't understand if it's not consistent," Lyon said.
Lyon held an advanced class Saturday at the Douglas County Fairgrounds, 2110 Harper St., where dogs were challenged not to be distracted by each other and to listen to their owners. The dogs succeeded for the most part, though at the end one did make a break for the door. She came back after being called by her owner.
One of Lyon's students said he had tried choke collars with his previous dog, but the electronic collar worked better. After about six months and a few 15-minute classes per week, he could take the dog on a walk without a leash.
"You can walk around with a dog that's been trained on the collar and tap the button to change directions," Lyon said. "It's just like saying 'come,' but you don't have to."
Copyright 2018 The Lawrence Journal-World. All rights reserved. This material may not be published, broadcast, rewritten or redistributed. We strive to uphold our values for every story published.