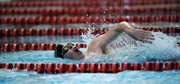 The stage was set for a showdown Thursday evening at the Lawrence Indoor Aquatic Center as Free State High's boys swimming team looked to hold off Topeka Washburn Rural.
With all the hurriedness of hosting the swim meet, Firebirds coach Annette McDonald wasn't certain what FSHS would have to do in the 400-yard freestyle relay — the final event — to win the points title. Therefore, her message quickly became: "We can't worry about that. We just have to go out there and swim your fastest."
As it turned out, Free State's boys lost the battle but won the war. They weren't the best in the 400 free relay, but they secured second- and fourth-place finishes to squeak by and take the team title, with just four more points than WRHS on Senior Night.
McDonald said she told the team beforehand winning wouldn't be a given with the Blues competing at Free State's last home meet of the regular season.
"It meant a lot to them to finish first, and I think that's why they all stepped up and cheered each other on," McDonald said.
At first, Free State junior Connor Munk said, the Firebirds thought they might have to win the 400 free relay to keep Washburn Rural — down 12 points entering the final event — at bay. So they did some quick poolside math.
"We knew, kind of, that if we got to second we would keep the lead," Munk said, "but we still wanted that first place (finish)."
Instead, Munk, Ben Sloan, Hunter Robinson and Cooper Schmiedeler finished second. And the FSHS B-team of Andrew Roman, Evan Barnes, Nolan Stoppel and Josh Saathoff finished fourth and maintained their points lead.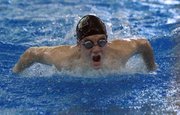 The Firebirds' coach was especially happy with the team title considering one of the top Free State swimmers, Canaan Campbell, was out sick. Schmiedeler replaced him in the 400 free relay. Earlier, Robinson stepped in for Campbell in the 200 medley relay and swam with Munk, Kyle Yoder and Sloan to a first-place finish.
"They really came through," McDonald said.
Munk, who took first place in the 200 and 500 freestyle races, said Washburn Rural's presence made for an intense meet, and it felt great to beat the Blues.
"Since it was our Senior Night, we definitely wanted our seniors to end on a good note," the junior said.
Each time he swam, Munk said he was thinking about the importance of that event. The 500, he added, really helped FSHS, as he, Schmiedeler and Saathoff took first through third and Andrew Roman finished fourth.
But Munk said there was much more to the team's narrow victory.
"It wasn't just these events that helped," he said. "It was everything."
Sloan's first-place finishes in the 200 medley and 100 freestyle, which he usually doesn't swim, helped greatly. So did the points provided by Free State's divers.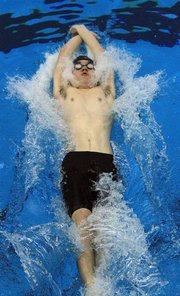 Junior Dan Krieger, who took second place in diving, said it was an intense competition because McDonald had told the divers their points would be a big part of the team's success.
"I had that going through my head the whole time," he said, adding he was glad to score points for the team.
Between Krieger and fellow FSHS divers Trevor Hillis (third) and Austin Neidow (fifth), the Firebirds received a key boost, even though a Rural diver, Sean Hunseberger, secured the top spot.
Krieger said the moment had a fair amount of pressure.
"It's pretty nerve-wracking being the only person going at one time with everybody watching," he said.
The divers' performances set the rest of the team up to succeed. From that point on, Free State had 12 top-four finishes in the final seven events.
"That's what it's about — racing," McDonald said. "Of course, it's sweet to win."
On Tuesday, FSHS will travel to Blue Valley Southwest.
Copyright 2018 The Lawrence Journal-World. All rights reserved. This material may not be published, broadcast, rewritten or redistributed. We strive to uphold our values for every story published.