On the street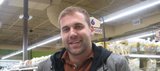 Wheel of Fortune.
Lawrence resident Preston Nicholson spent most of his appearance on the television game show "Jeopardy!" ahead of the pack, giving correct responses on the topics of Pocahontas, the Foo Fighters, "Jane Eyre" and the Po River. But he faltered on the Final Jeopardy question.
Nicholson, assistant director and pre-law adviser at Kansas University's University Advising Center, watched the Friday show in which he appeared at a watch party at Conroy's Pub, 3115 W. Sixth St., where he regularly participates in bar trivia on Wednesdays. Friends and supporters cheered him on throughout the half-hour show and offered some good-natured jeers at some of the other contestants.
When the champion, Brandon, rang in and responded correctly about Goobers, someone at the pub was quick with a response: "You're a goober."
But for the most part, there were cheers and raised glasses for Nicholson, who performed well throughout the show, firing off three quick responses in a row in the "colleges and universities" category, demonstrating his knowledge of Cal Tech, McGill University in Montreal and Rice University in Houston. He ended the first two rounds ahead of the other two contestants with $14,800. He had studied the category, "Presidential Running Mates," so he wagered enough to put him ahead if the contestant in second place doubled her score.
The Final Jeopardy answer was a bit of a curveball, though, seeking which president and vice president ate lobster and prime rib au jus for their inaugural lunch.
Nicholson said he went with his gut, and guessed Barack Obama and Joe Biden. Only one other contestant — Brandon, the champion — knew the correct answer of John F. Kennedy and Lyndon B. Johnson.
Nicholson ended in second place and took home $2,000 for his efforts. He enjoyed the trip, he said, taking a friend along to the studios in Los Angeles. They had some time to visit Hollywood and some tourist sites, as well, he said.
"I'm cool," he said. "I get $2,000 in a couple of months, so that's nice."
Danny Devlin, Nicholson's roommate, said he spent a fair amount of time prepping for the show and poring through old "Jeopardy!" questions and other facts.
"We played a lot of Wii 'Jeopardy!'" he said.
Nicholson, who has also appeared on the game show "Wheel of Fortune," has an idea where he'd like to go next.
"'Who Wants to Be a Millionaire,'" he said.
Copyright 2018 The Lawrence Journal-World. All rights reserved. This material may not be published, broadcast, rewritten or redistributed. We strive to uphold our values for every story published.