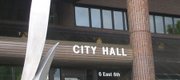 Subscribe to the email edition of Town Talk and we'll deliver you the latest city news and notes every weekday at noon.
News and notes from around town:
• As we previously have reported, it sure looks like Lawrence is going to get its first drive-through Starbucks, and it will be on Sixth Street near Free State High.
Plans have been filed at City Hall for developers to build a new 4,600-square-foot building on the northwest corner of Sixth Street and Champion Lane, which is just west of the new Burger King.
The building will have space for three retailers. Lawrence attorney Bill Fleming — who is part of the development group for the Bauer Farm area — confirmed that Starbucks has signed a letter of intent to locate in one of the spots. Retailers for the other two spots haven't yet been secured.
Plans call for the Starbucks to include a drive-through and an outdoor patio. Fleming said Starbucks would like to have the store open by late summer.
No word on whether a full-line Starbucks will have any impact on the Starbucks in the Dillons store across the street. Like other retailers in the Bauer Farm development, the Starbucks will be part of a previously approved special taxing district that adds an extra 1 percent onto sales tax purchases to help pay for upgraded public infrastructure on the site.
It will be interesting to see if the new store is a sign that a coffee war is brewing on Sixth Street. Late last year Dunkin' Donuts opened up a new drive-through location on Sixth Street, and coffee is a big part of that business. There also is a J&S; Coffee shop just across the street from the new Starbucks location. I'm sure there are some other coffee spots I'm forgetting along the way too. The point being, the number of places for Sixth Street motorists to pull off and get a jolt of caffeine is on the rise. Call it the opposite of traffic calming. Or, if you're in the passenger's seat of my wife's car, just call it plain scary.
• Near the Starbucks will be Lawrence's new community theater building. The first set of documents for Theatre Lawrence's new facility also have been filed at City Hall.
The community theater group, of course was recently successful in raising $6.4 million to build a new 300-seat theater in the Bauer Farm Development. The documents recently filed at City Hall carve out a specific lot for the project. The theater will be near the center of the development, basically on the northeast corner of Champion Lane and Bauer Farm Drive.
It will be interesting to see if as the theater moves forward whether the types of tenants the Bauer Farm development is able to attract changes. The development has had some good luck with attracting convenience type of retailers — a Burger King, a Taco Bell, a CVS and now a Starbucks, to name a few. But Fleming said the development group still has high hopes of landing a more formal, sit-down restaurant that may appeal to the crowds that come to the theater.
• Speaking of coffee, I had some questions about whether the near-iconic Bourgeois Pig at 6 E. Ninth Street had closed or something. Several motorists reported seeing the windows of the coffee shop covered with newspapers and such. No worries here. According to a sign posted in the window, the Pig has been closed for a remodeling. According to that same sign, it was scheduled to reopen today. I haven't checked to see whether it made its schedule. Someone should check it out and report back on what the remodeling involved.
• If you are looking to remodel your life by opening up your own business, the bioscience and technology incubator on KU's West Campus is hosting a year-long series on the topic. And here's something you find often if you do enter the business world — its free. The first session gets started later this month. The Entrepreneur Education Series will include the following sessions:
Jan. 20: Socializing your Brand: Get Beyond the Hype and Learn How Social Media Can Drive Revenue. Kris Millsap, creative director and founder of New Media Samurai will be the presenter.
March 9: Grants: Secrets to Creating a Winning Application. Don Colber, a grant specialists with the Kansas Bioscience Authority will be the presenter.
May 18: Successfully Raise Early Stage Capital: Key Tactics Every Entrepreneur Should Know. Matt McClorey, the president of the Bioscience and Technology Business Center will be the presenter.
July 20: Technology Doesn't Sell Itself: Build a Successful Strategy to Launch your Product. Michael Johnson, president of Ingenium Partners and Miller Heiman will be the presenter.
Sept. 21: Protecting your Intellectual Property: When and How Do I Protect My Ideas. Kyle Elliott, partner at Spencer Fane Britt & Browne LLP will be the presenter.
Nov. 21: Strategic Planning: Putting your Business Plan into Action. Shane Jones, CEO of The Astra Group will be the presenter.
Although the seminars are free, attendees are asked to register online at btbcku.com. All sessions will run from 4 p.m. to 5 p.m., and a mixer will be held after several of the events.
Copyright 2018 The Lawrence Journal-World. All rights reserved. This material may not be published, broadcast, rewritten or redistributed. We strive to uphold our values for every story published.