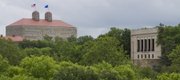 Subscribe to the email edition of Heard on the Hill and we'll deliver you the latest KU news and notes every weekday at noon.
Your daily dose of news, notes and links from around Kansas University.
• KU's recent case of plagiarism was mentioned in the journal Nature as a part of a growing plagiarism trend. The journal mentioned the case involving Gerald Lushington, the director of the K-INBRE bioinformatics facility at KU, and Mahesh Visvanathan, the associate director.
Nature was interested in the public censure issued against the pair by the U.S. Office of Research Integrity.
"It's an unusual example of US authorities taking action against not only an individual found guilty of misconduct, but also a supervisor who has failed to deal with the problem," the article said.
John Dahlberg, the head of the division of investigative oversight at the ORI, told Nature that it's a growing problem, and in recent months they've had a "plethora of plagiarism cases," owing to the more widespread use of plagiarism-detection software.
That wasn't the case at KU, though. Authors of a plagiarized paper complained, the article said, and an investigation revealed that a student had informed Lushington and Visvanathan about the issue, but nothing was done.
• Lots and lots of people are talking about snowy owls this winter. We've had a couple articles on snowy owls, and I spotted Mark Robbins, the KU ornithologist I talked to on the issue, quoted in a Reuters article about snowy owls moving south.
I also heard Lawrence get a mention on NPR's "All Things Considered" for this story about an injured snowy owl.
The Reuters article has Robbins providing some updated numbers — about 35 sightings in Missouri and 75 in Kansas.
"Never in recorded history have there been this many in Missouri and Kansas," Robbins said in the article.
I've been keeping an eye out ever since I wrote about them, but no luck just yet.
• Though I covered three folks from KU Endowment who received awards at the Council for Advancement and Support of Education's District VI conference recently, I neglected to mention Baker University also had an award recipient at the conference.
Former Baker University Board of Trustee chair Susanne Richardson Teel, who is currently a member of the board, received the CASE Volunteer of the Year Award at the regional conference in Denver.
"Quite frankly I don't know that I've known anyone who is so selfless in giving of their time and their talent and their treasure," Baker President Pat Long said in a written statement. "I talk to potential board members when they're coming on the board; those are three things that we expect. And she does that in such an incredible way."
• I love tips for Heard on the Hill — about snowy owls, plagiarism or anything else — so keep sending them to ahyland@ljworld.com.
Copyright 2018 The Lawrence Journal-World. All rights reserved. This material may not be published, broadcast, rewritten or redistributed. We strive to uphold our values for every story published.