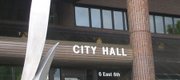 Subscribe to the email edition of Town Talk and we'll deliver you the latest city news and notes every weekday at noon.
News and notes from around town:
• Maybe you haven't heard, Lawrence isn't interested in building a West Lawrence Recreation Center anymore.
Instead, it is interested in building a Lawrence Activities Wellness Center. If you are confused, nothing has really changed from what we've previously reported regarding the idea of a $15 million, indoor recreation complex that would be located somewhere on the city's west side.
But Parks and Recreation leaders have stopped calling the idea a recreation center and started calling it the Lawrence Activities Wellness Center. I suppose that is in part because the project would include five to six gyms, which is quite a bit more than a normal recreation center. But city leaders also want to highlight that the facility would serve the entire community.
Regardless, it is a sign the project is plowing along. The big sign in that regard is city officials recently have received proposals from architects and fundraisers who want to turn the idea into a project.
Three local architecture firms will be competing with five other firms for the right to design the new center, if city commissioners move forward. Firms responding to the city's request for proposals were:
Gould Evans, the Lawrence-based architecture firm that has been doing preliminary work for the city on the idea.
Treanor Architects, Lawrence
Sabatini Architects, Lawrence
Williams Architects, Kansas City, Mo.
Lempka Edson Architects, Lenexa
Brinkley Sargent Architects, Dallas
HTK Architecture, Topeka
Convergence, Kansas City, Mo.
SFS Architecture, Kansas City, Mo.
Commissioners also received proposals from professional fundraisers. If you remember, Bill Self's Assists Foundation has expressed an interest in donating $1 million to the project, and the city would like to see if it could raise another $1 million to $2 million on top of that. The city received only three proposals from fundraisers. I don't know if that is an indication of whether fundraisers think raising private donations for a government entity is too challenging, or whether the word just didn't get out well to the host of fundraising consultants that are out there. Anyway, the fundraising firms are:
Swanson House Fundraising Professionals, Emporia, which I've been told is the group Theatre Lawrence worked with on its successful campaign.
Jeffrey Byrne & Associates, Kansas City, Mo.
Hartsook Companies, Kansas City, Mo.
The city now will put together a team of staff members to review the proposals and begin interviewing the firms. City commissioners likely will be presented with a recommendation on which firms to work with by the end of February. At that point, the city will know how much these architectural services will cost. Ernie Shaw, the city's acting director of Parks and Recreation, said he hopes whatever architect is selected will be able to submit plans to city commissioners by the end of July. So, circle that date on your calendar. At that point, city commissioners will be asked to decide whether they're serious about moving forward on this project. It also may be the time that the city is asked to settle on a site for any new project. As we've reported before, a piece of city-owned ground near Sixth and Wakarusa had been considered the most likely location for the project. But a group led by the Steve and Duane Schwada has offered to donate ground near Sixth and the SLT, a site that some say would give the project more room to grow into the type of facility that could host regional or even national youth basketball tournaments or other such events. Other sites may emerge.
My sense is that city commissioners are going to want to have a good comfort level that they have the ability to raise private money over and above the $1 million amount from Self's foundation before they green light this project. Is that likely? Who knows. Lawrence has been on a fundraising roll lately — the homeless shelter, the community theater and the public library expansion, to name three.
• One element I don't expect architects will include in a new recreation center — oops, activities and wellness center — is tennis courts. That probably makes sense. Tennis hasn't exactly promoted a lot of wellness in the neighborhood surrounding Lawrence High lately.
There has been quite a debate about whether the Lawrence Tennis Center — a joint facility between LHS and the city — should once again be lighted so Lawrence tennis enthusiasts can play matches at night. Neighbors have said the lights are going to create too much glare onto their property, and neighbors already aren't in a good mood following what they believed was a poorly planned expansion of some athletic fields at Lawrence High.
City leaders have been looking for a way to reconfigure the lights at the center, and currently are getting some estimates from a local engineering firm. But I get the impression that parks and recreation leaders aren't too optimistic that solution will be feasible.
But there's another option. I'm not sure how it dawned on somebody. Maybe it just hit them suddenly like a John McEnroe tantrum. But somebody remembered that just up the street and around the corner there are eight tennis courts off Naismith Drive on Kansas University property. And guess what? They're lighted.
Shaw said he recently approached KU about a partnership that would allow more community usage of the courts. Shaw said KU has been very receptive to the idea. The courts likely would need to be resurfaced, and the old lighting system may need to be upgraded. Those improvements may cost $80,000 to $100,000, but that still may be a better bargain for the city than tangling with LHS neighbors over lighting.
The idea is going through the bureaucracy at KU, but Shaw said he thinks there is some promise there. The courts are not heavily used by KU. The university's tennis team does not use them for practice. If the idea gets approval from KU officials, it then will have to go through the city's bureaucracy. But there may be news to report in the next few weeks.
• Speaking of tennis, if you have a face that looks like a tennis racket. . . . No, that's not right. If you admire Anna Kournikova's. . . . No, I shouldn't go there. Well, you're going to have to come up with your own transition on this one.
But the point is, look for a new beauty supply store to open along 23rd Street in the coming weeks. Kelvin Heck, a broker with Lawrence's Colliers International confirmed to me that he's brokered a deal for ACE Beauty Supply to open in the Southern Hills Shopping Center, which is the one with Perkins near 23rd and Ousdahl. The business will be in a spot next to Pizza Shuttle. It also will be near B-Street Design, which is a relatively new beauty school that has opened in the center.
ACE, which also operates a store in Kansas City, is another sign that the Southern Hills Shopping Center is on a rebound. Heck said once the beauty store opens up — probably in February — the center will be fully leased for the first time in quite awhile. Heck and his co-workers at Colliers are busy finalizing their annual report on retail, office and industrial vacancy rates across the city. I expect to get that information soon and pass it along to you.
But enough of that talk. Now, back to Anna Kournikova.
Copyright 2018 The Lawrence Journal-World. All rights reserved. This material may not be published, broadcast, rewritten or redistributed. We strive to uphold our values for every story published.