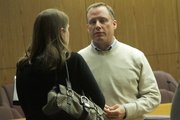 A Douglas County judge Tuesday sentenced a former Lawrence youth ministry coordinator to serve 30 days in jail and three years on probation after he pleaded no contest to having a sexual relationship with an underage girl.
Christopher L. Cormack, 41, who now lives in Abilene, entered the no-contest plea in November to one count of indecent liberties with a child. Douglas County prosecutors initially had charged him with one count of aggravated indecent liberties with a child, alleging he had a sexual relationship beginning in 1999 with a girl when she was 15. He was 28.
"I acted extremely foolishly and irresponsibly by allowing my feelings for her and our relationship to progress ever beyond friendship," Cormack said. "And I am sorry that my foolishness has caused her and her family pain in any way."
Amy McGowan, a chief assistant district attorney, said prosecutors did not oppose the probation sentence in exchange for the victim, who agreed with the probation and 30-day jail sentence, not having to testify at a new trial. The victim spoke at Cormack's 2008 sentencing that was later overturned by an appeal, but she did not address the judge Tuesday as she sat in the audience.
"This represents an end of a very long road for her," McGowan said.
District Judge Robert Fairchild followed the plea agreement in the case.
Cormack is a former youth ministry coordinator at Trinity Lutheran Church, 1245 N.H. He had no past criminal history, so he qualified for probation under state sentencing guidelines.
A jury in 2008 convicted Cormack of having a sexual relationship with the girl, but a Kansas Court of Appeals panel in March awarded him a new trial because jury instructions were not specific enough. The girl testified at the first trial that the two had a sexual relationship that began at a youth retreat in July 1999 and continued until after her 16th birthday. Cormack has testified the sexual relationship did not begin until after she turned 16, the age of consent in Kansas.
Defense attorney Hatem Chahine said the parties agreed to have Cormack serve 30 days in jail and have no contact with the alleged victim or witnesses in the case. McGowan said Cormack would be required to register as a sexual offender for 25 years. Cormack also must undergo two years of sex offender treatment.
"This is much more than a 36-month probation," Chahine said.
If he is ever found to violate his probation, he would face 32 months in prison and lifetime post-release supervision after that.
Cormack's wife, Amanda Cormack, and a friend, Chris Bruen, both said he was a good man who has made mistakes and both said they trusted him to be around children, including his nieces and nephews. The couple is also expecting their first child.
"I am not blind to his imperfections, and I am not naive about the difficulties we face," Amanda Cormack said. "But I know that he is the man I want standing beside me in times of adversity and a man whom I can trust without fail."
McGowan said that until the recent plea, Cormack had not taken responsibility for his actions in the case. She also said he previously had called his actions with a girl a lapse of judgement, but the prosecutor said he had a sexual relationship with the underage girl that lasted for three years and ended a month before his marriage. McGowan also said the case deeply affected the victim as she told the judge at the 2008 sentencing.
"The reality is he has never really come in and held himself responsible for what happened until this plea," McGowan said. "We would not be here with this agreement had it not been for (the victim) working with me to come up with this disposition."
Copyright 2018 The Lawrence Journal-World. All rights reserved. This material may not be published, broadcast, rewritten or redistributed. We strive to uphold our values for every story published.