On the street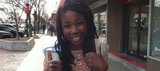 Thin Mints.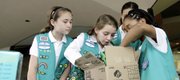 Just when you thought your New Year's resolution was safe, Girl Scouts will be setting up booths across Lawrence with the hope of selling cases of cookies.
Girls Scouts nationwide are shifting sales tactics from one that had Girl Scouts taking preorders of cookie sales to a direct sales approach where troops estimate how many cookies they think they can sell and then go out and sell them. In recent years, preordered cookies were handed out in Lawrence during the middle of the winter. This year, boxes of cookies arrived before the holidays and will be sold until the end of this month.
While the change is good for sales, some parents are worried they won't be able to sell all the cookies they've ordered and will be left holding the bill. Gina Garvin, brand and marketing director for Girl Scouts of Northeast Kansas and Northwest Missouri, acknowledged the first year of the sales transition can be hard for troops to establish a baseline.
"We know it comes with some stresses, and we know that we have some work to do," Garvin said. "It's like they are running a business for three to four months. It is huge. And we appreciate them so much. We know there are frustrations."
In Lawrence, about 10 troops have a substantial amount of cookies left to sell in the next three weeks, Garvin said. Once troops agree to take the cookies, Garvin said they can't be returned to the baker or the regional council.
The baker won't take them back for food safety reasons, and the regional councils won't accept them because it would compound an already existing inventory of cookies.
Garvin said the council, which serves 47 counties in two states, will help.
"We don't want the profit the troops use to support (their activities) to go away. We are doing everything we can possibly do to support the effort," she said.
Girl Scouts have found that the direct sales approach has been more successful. For the regional council, orders are up 10 percent from last year.
Today's Girl Scouts don't know their neighbors as well as they used to and have a harder time connecting directly with customers, Garvin said. On the other hand, troops have had success with setting up booths or holding wagon sales across neighborhoods.
"It's easier to sell when the customer has the cookies right in front of them," Garvin said.
Statistics show that 80 percent of people who are asked to buy Girl Scout cookies will buy them. But just 60 percent of them are ever approached.
At the start of the cookie selling season, troops were given formulas to project their cookie sales. Based on those formulas, cases of cookies were baked and shipped out to troops throughout the region. In the initial order phase, Garvin said troops were worried they would run out of cookies and began ordering more. In the first week, 30,000 cases were taken from the regional council.
But when the holidays hit, sales slowed down, and parents began to worry that they wouldn't be able to sell the cookies that remained. Compounding the problem in Lawrence, local stores allowed fewer troops to set up booths.
"We know there aren't enough (booth sales) right now and we are asking for business support and support from the community to help alleviate all that stress. We need that help," Garvin said.
David Mier, store operations manager for Hy-Vee on Sixth Street, said he has noticed an increase in troops wanting to sell cookies at the store. They have four booths set up during January, but Mier said the store had to set a limit.
"Too many people in the entryway is overwhelming," he said.
Garvin is calling on troops to get more creative in where they sell cookies, suggesting they set up booths at places of worship, car dealerships and bowling alleys.
The regional council also is trying to shuffle cookies from troops that are having trouble selling them to those that want to keep selling.
"We don't want girls to be stuck with cookies. We don't want parents to be stuck with cookies. We don't want troops to be stuck with cookies. We want them to have the full proceeds," Garvin said.
Those interested in buying cookies or setting up a booth can contact Lisa Vanderbilt at 393-9972 or dccookies@sbcglobal.net.
Copyright 2018 The Lawrence Journal-World. All rights reserved. This material may not be published, broadcast, rewritten or redistributed. We strive to uphold our values for every story published.