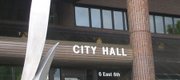 Subscribe to the email edition of Town Talk and we'll deliver you the latest city news and notes every weekday at noon.
News and notes from around town:
• It is like Cal Ripken Jr. sitting out a baseball game. It is like Allen Fieldhouse not being sold out for a men's basketball game. It is like the Missouri Tigers winning a sportsmanship award.
The point is, the streak is over. Since at least 1956 — as long as the city has been keeping records — builders have started at least 100 new single-family homes per year in Lawrence. But 2011 is the year that the housing bubble popped that remaining piece of pride for the Lawrence building industry.
The city issued 95 permits for new single-family homes in 2011. The city's previous low was 102 units in 2008 and that was followed by 110 units in 2009. In other words, three of the worst years on record for the city's home building industry have happened in the last four years.
The city's high-water mark was 486 single-family homes in 1994. From 1991 to 2004, the city issued at least 300 single-family building permits per year. Even during the 1980s, when mortgage rates were routinely in the double digits, Lawrence only hit a low of 119 homes.
But there were some signs of life in the building industry in 2011. Builders started 355 apartment units in the city, which is the most since 2008. The city also had some large dollar commercial projects get started last year. The total value of all private projects started in 2011 checked in at $107.7 million ($7 million worth of publicly-funded projects also were started.) The $107 million mark also is the highest since 2008.
Here's a look at the 10 largest projects that began work in 2011:
Hunter's Ridge Apartments near Sixth and Stoneridge, $28.5 million;
Bowersock Power Plant North Kaw Plant, $11.3 million
Poehler Building Renovation, 619 E. Eighth St., $4.4 million
Dillon's, 1740 Mass., $3.8 million
Comfort Inn & Suites, 150 Iowa, $3.3 million
Waste Water Treatment Plant improvements, 1408 E. Eighth St., $3.1 million
LMH Food and Nutrition Services renovation, 325 Maine, $2.6 million
Crossgate Casitas apartments, 2451 Crossgate Drive $2.1 million
Hy-Vee renovation, 3405 Clinton Parkway, $2.0 million
Natural Grocers, 1301 W. 23rd St., $1.5 million.
• Attention all beer drinkers. (Yeah, wake that guy up who is sleeping in the bathtub.) There's a bit of a glass bottle recycling issue in Lawrence right now. If you remember, the city and the owner of the 12th and Haskell Recycling Center are in a land use dispute. As part of that dispute, the owner of the 12th and Haskell center has stopped taking all sorts of consumer recyclables, such as glass. That basically leaves the Wal-Mart Recycling Center as the main place to drop off glass bottles. The city has been getting reports that the Wal-Mart center has had some difficulty keeping up with the increased demand, leading overflowing glass bins.
Well, the city doesn't have an immediate solution, but there is one not too far away. As we've previously reported, the city has been working with Kansas City-based Ripple Glass to install several glass recycling bins across the city. I've been told that contract has now been signed, and the city is expecting to have four glass recycling bins installed in about six weeks. The city is not yet ready to announce the locations of the bins, but we'll get that information soon. And yes, unfortunately, the bins will be painted in Ripple's trademark color of purple.
"I talked to Ripple about the purple, but it was important to them," said Mayor Aron Cromwell, who has been lobbying for Ripple to start collecting glass in the city.
Under the deal, city crews will empty the bins and take the glass to a central location in Lawrence. Ripple then will transport the glass from Lawrence to a Kansas City plant, where the glass is used to make fiberglass insulation.
In the meantime, perhaps a few beer drinkers could switch to aluminum cans. Where I'm from, it is considered cool to crush 'em on your forehead. Oh yeah, I was very cool.
• Competition in the Internet service provider market may be heating up in Lawrence. There is of course Knology, the largest player in town. There is AT&T;, which is expanding the number of areas it can offer its U-Verse service in the city. And there is Lawrence-based Community Wireless, which operates the not-for-profit Lawrence Freenet service.
At their Tuesday evening meeting, city commissioners will consider approving a pair of agreements that should make it easier for Community Wireless to expand in the city. One agreement gives Community Wireless the ability to use the city's rights-of-ways for communications equipment. It also allows the company to place wireless antennas and such on certain pieces of city-owned structures, such as water towers, traffic signals and street light poles. In exchange for use of the right-of-way and structures, Community Wireless will pay the city 5 percent of its gross receipts over the 25-year term of the agreement. No estimate, yet, on what that amount may be.
The second agreement will give Community Wireless access to 12 strands of city-owned fiber optic cable that will be installed along 23rd Street. The city is installing the fiber, in part, to connect traffic signals along 23rd Street to a central computer system.
Community Wireless wants access to the fiber optic cables because it can use them to deliver super high-speed Internet access to parts of Lawrence. When Community Wireless presented the plan to city commissioners in May, the company said it could offer 1-Gbps Internet service, which is the same super high-speed Internet service that Google is installing in the Kansas City area.
CWC leaders said the fiber likely would allow them to offer the high-speed service to businesses and apartment complexes along the 23rd Street Corridor, the Daisy Hill area near Kansas University and perhaps along parts of Sixth Street and Iowa Street.
CWC will make a one-time $30,000 payment to the city for use of the fiber, in addition to the previous provision calling for 5 percent of gross revenues to go to the city.
The agreements also call for CWC — which is a for-profit company — to continue offering free Internet service to certain low-income individuals through the not-for-profit Freenet or some other vehicle. Specifically, the agreements say CWC will offer free service to households with a "net income at or below 140 percent of the net income eligible for food assistance as defined and published by the Kansas Department of Social and Rehabilitation Services." The agreement, though, does provide a couple of outs. It says the "availability of free services for qualifying households is dependent upon the financial resources available to CWC." But it goes on to say that CWC will "endeavor" to have about 10 percent of its residential customer base comprised of free service households.
City commissioners meet at 6:35 p.m. Tuesday at City Hall.
Copyright 2018 The Lawrence Journal-World. All rights reserved. This material may not be published, broadcast, rewritten or redistributed. We strive to uphold our values for every story published.