The Bishop Seabury Academy girls basketball team had a game plan based on simple math.
Photo Gallery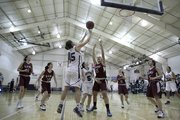 Bishop Seabury girls basketball vs. Hyman Brand
The tallest player on Hyman Brand Hebrew Academy is 5-foot-9, four inches taller than her next teammate. The tallest player on Seabury is 6-foot-3 junior Courtney Hoag.
"She had a little bit of an advantage," coach Becky Bridson said.
Hoag dominated the post with 22 points and helped lead Seabury to a 56-23 victory against Hyman Thursday.
She saw the scouting report, so she knew the ball was going to come her way plenty of possessions.
"Definitely, because we heard that they were only going to be like 5-3," Hoag said. "That's their average height."
The Seahawks (2-0) scored a quick eight points to start the game, and the Rams were forever in a hole. If it wasn't Hoag getting an uncontested layup, it was either Alexa Gaumer or Maddie McCaffrey running the fast break into an easy score. Gaumer finished with eight points, McCaffrey with nine.
Bridson said the team chemistry is flowing right now, even after two games. Other than a few minor flaws, the Seahawks are looking like a well-rounded team. A lot of it has to do with the veterans jelling with the young players.
"They look like they've been playing together for a lot longer than they actually have," Bridson said.
Hoag added that the captains are leading the way they need to lead, which gains their teammates' respect.
Seabury hasn't played a game in almost a month because of holiday break. Aside from rushing their offense from time to time, the Seahawks looked polished Thursday night. Bridson didn't let her team go soft during the layoff.
"We did a lot of conditioning," she said. "I don't think they liked that too much. But I feel like with the conditioning comes a lot of discipline."
That discipline helped Seabury not only get a huge lead, but sustain it. The Seahawks outscored the Rams in each quarter and kept attacking on both sides of the ball. Bridson said her team's half-court trapping worked to perfection as Hyman struggled to find a decent shot.
Anytime a ball was on the ground, a Seahawk was diving for it like it was the last game of the season. Hoag couldn't speak for the spark in her teammates, but hers was more a factor of anticipation.
"I was just so excited to play again because it's been so long," Hoag said.
The Seahawks will play host to Wichita Word of Life at 6 p.m. on Jan. 13.
Hyman Academy boys 51, Seabury Academy 45
Hyman Brand Hebrew Academy boys basketball team defeated Bishop Seabury Academy, 51-45, on Thursday at Seabury.
Aaron Lock led the Eagles with 15 points and Marcus Allen scored 13.
Seabury (4-2) will play host to St. James Academy on Saturday.
Copyright 2018 The Lawrence Journal-World. All rights reserved. This material may not be published, broadcast, rewritten or redistributed. We strive to uphold our values for every story published.