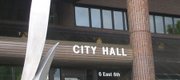 Subscribe to the email edition of Town Talk and we'll deliver you the latest city news and notes every weekday at noon.
News and notes from around town:
• Forget about that Orange Bowl win. Forget about that National Championship. 2011 has been a better year than 2008. At least from a sales tax perspective.
Lawrence's sales tax collections in 2011 grew by 4.3 percent, or by about $1.08 million, compared with 2010. The growth rate is the best showing for Lawrence retailers in more than a half a decade and ends a two-year decline in sales tax collections.
In fact, you have to go all the way back to 2004 to find a time when Lawrence's sales tax collections grew at a greater rate. (We're talking apples to apples here. Lawrence's sales tax rate has increased in that time period, but we factor that out.)
What's the reason for it? Well, I'm asking around about that, but there are a few theories I'm hearing. There is the old pent-up demand idea. People have saved and saved and finally they want to spend a little, especially during the holiday season. The numbers do show particularly strong growth toward the end of the year when people may have been gearing up for Christmas. (Note: These numbers don't tell the whole story on holiday sales. Sales tax reports lag by 30 to 45 days, so we won't really start seeing the December sales tax numbers until late January or February.) But the numbers show that sales made in October and November were pretty strong. The city's sales tax collections for those periods were up 9.4 percent.
Plus, others have noted that it has been a pretty good year for car dealerships in Lawrence. 2011 may have been the year that the numbers started to show signs of a more aggressive nature from local car dealers. Briggs Auto Group was successful in bringing back a Dodge/Chrysler dealership to the city, and several other dealers made major upgrades to their showrooms and dealerships to attract more customers.
Grocery stores also have been making upgrades; think major renovations at Hy-Vee, Dillons and an entirely new entrant into the market with Natural Grocers. That too may have had some impact, I've been told.
Hard to tell. What's clear right now is that 2011 was a pleasant surprise on the sales tax front. For you numbers geeks, here's a look at how local sales tax collections have grown or shrunk in the last 10 years.
2011 - 4.3 percent
2010 - down 1.6 percent
2009 - down 3.1 percent
2008 - 3.8 percent
2007 - 0.9 percent
2006 - 2.6 percent
2005 - 3.5 percent
2004 - 5.4 percent
2003 - 1.5 percent
2002 - down 0.1 percent
• If you don't feel like you gave enough pennies, nickels and dimes through your sales tax purchases, you may soon have another option for emptying your pockets. Remember the idea of donation meters?
We reported back in July that city commissioners were sold on the idea of "donation meters" being added to downtown Lawrence. The idea is that old parking meters would be placed in certain blocks of downtown. Signs would ask people to put their spare change in the "donation meter" instead of giving the change to panhandlers. The money from the meters then would be donated to the Lawrence Community Shelter to help the homeless.
The idea got a vote of confidence from city commissioners in July, but I hadn't heard or seen much about it since then. But I've been told the idea is still alive. City Clerk Jonathan Douglass and Downtown Lawrence Inc. director Cathy Hamilton have been working on some plans for where to place the meters.
What the two of them told me is that the plan is to start with six meters spread over three blocks: the 700, the 800 and the 900 blocks of Massachusetts Street. The meters would be placed near the midpoint of each block, with one meter on each side of the street. The meters will be painted a different color and have appropriate signs to make it clear that they're not a parking meter. (Warning: If my wife sees a parking meter on the sidewalk, she's going to park there. She may even do an illegal U-turn to get the spot.)
Look for the City Commission and downtown Lawrence merchants to be presented with the details of the plan sometime this winter so that the meters could be installed by spring.
• Speaking of parking meters, there was some question of whether the idea of 15-minute parking meters would be popular with both motorists and merchants in downtown. If you remember, several have been added along Massachusetts Street in the 600 through 1000 blocks in the last year or so.
Well, here's one sign that they're popular with some: Representatives with Fuzzy's Tacos and Curry-In-A-Hurry are asking that one of the 15-minute meters be installed in the 1100 block of Massachusetts Street. The city estimates that it will cost about $170 to convert a standard meter into a 15-minute meter. The city does charge a slightly higher rate for parking at a 15-minute meter: 25 cents per 15 minutes.
Copyright 2018 The Lawrence Journal-World. All rights reserved. This material may not be published, broadcast, rewritten or redistributed. We strive to uphold our values for every story published.