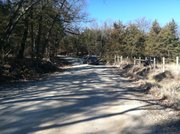 The Douglas County Sheriff's Office and the Topeka Police Department are investigating the death of a 39-year-old Topeka man, whose body was discovered in a wooded area Thursday morning, west of Lecompton.
Douglas County Undersheriff Steve Hornberger Thursday afternoon identified the man as Corey Brown. Hornberger said a passerby discovered the body about 10:45 a.m. Thursday. Hornberger said the case is currently a "suspicious death" investigation, but he offered few other details about the case.
Brown's body was found near the BNSF railroad tracks in northwest Douglas County near the Kansas River, west of Lecompton.
According to published reports, Brown was first reported missing Tuesday, after his car and cell phone were located at a Topeka restaurant.
Brown was also one of the managers at Hudson Liquor in Topeka, which was the scene of a robbery and homicide on Dec. 24. Matt Hill, 41, an employee at Hudson Liquor, was shot and killed during the robbery. A 44-year-old Topeka man, Matthew Myers, was arrested last week in connection with the crime, according to published reports.
Topeka police are assisting in the investigation, said Kristen Veverka, department spokeswoman.
Officers have blocked off a portion of North 2190 Road — also known as the River Road — which runs parallel to the railroad tracks and the Kansas River.
Check LJWorld.com for more updates as they become available.
Approximate location of body
Copyright 2018 The Lawrence Journal-World. All rights reserved. This material may not be published, broadcast, rewritten or redistributed. We strive to uphold our values for every story published.