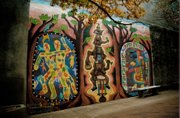 Plans to replace a long-standing downtown Lawrence mural received a big boost Thursday from the Lawrence Chamber of Commerce.
One day after a Journal-World article highlighted plans to replace a mural that was in the walkway between 716 Mass. and 722 Mass., the chamber helped raise $1,000 for a future mural project, said Hank Booth, interim director.
Booth said he saw the Journal-World story, consulted with some chamber board members, and decided to help restore the mural that was recently covered up during repairs to the building that houses Signs of Life, 722 Mass.
"We said, 'Let's get this done today," Booth said.
The money was raised by a variety of individuals and downtown businesses, Booth said.
Local artist Dave Loewenstein organized the original mural, named "The Guardian of the Arts," with dozens of others in 1993.
Loewenstein and Clay Belcher, owner of Signs of Life, both said they hoped to restore the mural but were looking for ways to finance the project.
Copyright 2018 The Lawrence Journal-World. All rights reserved. This material may not be published, broadcast, rewritten or redistributed. We strive to uphold our values for every story published.