Photo Gallery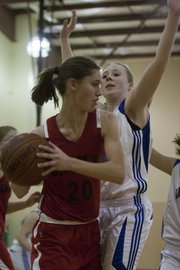 Veritas girls vs. Topeka Cornerstone
Box score
Veritas 6 7 6 12—31
Topeka Cornerstone 8 11 6 13—38
Veritas (31)
Ellen Phillips 5-6 3-5 13, Madison Bennett 1-7 1-2 3, Brittany Rask 1-5 2-2 4, Alison Dover 1-1 0-1 2, Kristen Finger 1-5 3-6 5, Joy Brooks 1-6 2-4 4; Veritas – 10-30 11-20 31.
Topeka Cornerstone (38)
Amy Wenger 6-8 2-4 14, Katherine Wenger 2-10 0-0 4, Brittany Kramer 1-10 5-8 7, Erin Coffman 0-5 0-2, Kimbre Marsh 2-4 0-0 4, Abby Holloway 1-3 0-0 2; Cornerstone – 12-40 9-18.
Three points: Veritas: None. Cornerstone: None. Turnovers: Veritas -17, Cornerstone - 8. Shooting Percentage: Veritas: 30 Cornerstone: 30.
Eudora — Before the holiday break, the Veritas Christian School girls basketball team had concerns about its toughness.
Even though Veritas lost to Topeka Cornerstone Tuesday night, 38-31, at the Eudora Recreation Center, Eagles coach Kevin Shelton said the girls showed a toughness that they had been lacking.
"We took a step forward from where we were before the break," Shelton said.
The Eagles didn't let the longer Saints players dominate the boards or get points in the paint. Veritas came away from the game with the total rebounding edge, 36-24.
Senior Ellen Phillips went off for 13 points and 14 rebounds. Junior Kristen Finger only had five points but grabbed 13 rebounds.
Cornerstone (7-1) had beaten a number of teams that dismantled Veritas (2-6) earlier this season, but the Eagles played physical while holding the Saints' leading scorer to seven points on 1-for-10 shooting.
But other players were scoring on their open looks while the Eagles were not.
"Their guards made some shots. Good teams do," Shelton said. "But we controlled the ball better and didn't get frustrated with the press."
The offense was more functional than the last couple games, but a couple of turnovers led to easy baskets for Cornerstone.
The Eagles were down six or seven for most of the second half until a late spurt made the game interesting. With eight seconds left, Veritas junior Joy Brooks missed a three-pointer that would have made it a one-possession game.
Regardless, the coaches were proud of how the team bounced back from break.
"I thought we held our own tonight," Shelton said.
Veritas' next game will be at 6:15 p.m. on Friday at home, hosting Topeka Heritage.
Copyright 2018 The Lawrence Journal-World. All rights reserved. This material may not be published, broadcast, rewritten or redistributed. We strive to uphold our values for every story published.