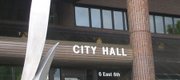 Subscribe to the email edition of Town Talk and we'll deliver you the latest city news and notes every weekday at noon.
News and notes from around town:
• Now I understand why my wife has rented a U-Haul truck for Jan. 26. An Old Navy spokeswoman has confirmed to me that Jan. 26 will be the last day the company's South Iowa Street store will be open for business. No details have emerged yet on whether the company will be running aggressive going-out-of-business sales or whether they'll simply ship their merchandise to another Old Navy location.
As we reported last month, Old Navy has made the decision to leave its space in the Pine Ridge Plaza near 33rd and Iowa streets. That has created all sorts of speculation. There's been speculation that a Ross store is poised to take over Old Navy's location, which is adjacent to Kohl's Department Store. The leasing agent for the property is not commenting at the moment. Supposedly, the owners of the Old Navy location already have another tenant preliminarily signed up for the space, but I haven't been able to get confirmation on that yet either. The Web site marketing the Pine Ridge Plaza Shopping Center says the property is fully leased, but I have noticed a real estate sign on the property since we broke the story about the Old Navy closing.
I'm also not sure about the validity of the Ross rumor, but I pass it along because — well, you guys love rumors — and also because I've heard from some folks in the local retail world who say Ross is definitely on their radar screens.
"I know Ross is a player in this market," said one source, although this "market" could mean the retailer could be targeting Kansas City or Topeka.
What is Ross, you ask? According to its Web site, it is basically a discount department store. It advertises itself as offering savings of up to 75 percent compared to department store prices. It looks like the retailer has a heavy emphasis on clothing, some shoes and some home decor and accessory items for the kitchen and bath.
The retailer currently doesn't have any stores in Kansas or Missouri, but I can see why some may think the company is poising itself to move into the region. The company has a strong presence in Oklahoma, and when it decides to move into an area it appears to do so in a significant way. For example, in Tulsa the company has three stores and a fourth in the Tulsa suburb of Broken Arrow. It also has stores in the college communities of Norman and Stillwater.
As I said, who knows whether there is any validity to the speculation. Consider it a discount rumor about a discount store. I'll do some more digging and let you know if I hear more.
• As for Old Navy, the speculation isn't over for that retailer either. Last week's announcement that Sears will close its Lawrence store at 27th and Iowa streets may create an opening for Old Navy to get back into the Lawrence market. I'm still hearing that Old Navy's decision to leave its space at 33rd and Iowa streets was not about poor sales totals. Instead, I've heard that it was about a disagreement with the landlord. I've been calling around to local commercial real estate agents for an upcoming story I'm writing on the city's retail scene, and I can tell you that Old Navy is still on the minds of some.
"I would expect to see Old Navy open back up in Lawrence at some place at some time," said Doug Brown, a broker with McGrew Commercial Real Estate.
Is the old Sears building that place? Brown isn't providing any of those details, but I definitely get the impression that local commercial real estate agents are working the phones pretty heavy to let prospects know that there will soon be available a significant amount of space at a prime South Iowa Street location. Whether Old Navy is the leading candidate or whether some new retailers are more likely, I don't know.
"Without showing my hand, what I can say is that I think the prospects are pretty good for that building," Brown said. "There are people working on making some deals."
The property is owned by a group controlled by the K-Mart Corp., which is Sears' parent company. So it appears the closing of the store won't involve a messy lease issue that could leave the building in limbo. Instead, the big question probably will be whether the property will go up for sale or only for lease. The county appraises the property at about $4.5 million.
The building — which used to be the city's Wal-Mart — is about 85,000 square feet. That is way more space than Old Navy usually occupies — it has about 20,000 square feet in Lawrence. But the building could go the way of the old K-Mart store, which was split into several smaller retail spaces when it closed several years ago.
It would be an interesting turn of events if the Sears and the Old Navy announcements end up sparking a redevelopment that results in more new retailers coming to Lawrence.
But as they say on the farm, I don't hear any chicks so that means we're just counting eggs.
• OK, for those of you still trying to comprehend just how hickish that last statement was, let's change gears. Tuesday night's City Commission meeting resulted in a majority of commissioners approving $280,000 in incentives for a Doug Compton-led project at Ninth and New Hampshire streets. That was interesting because the incentive request was for the seven-story building that already is constructed at the southwest corner of the intersection. There will be a separate request for incentives for a multi-story hotel building on the southeast corner, if that project wins the necessary land use approvals.
But even more interesting is what commissioners said at last night's meeting. Commissioners have been hearing the talk on the street for sure, which goes something like this: Why does Compton always get some type of break at City Hall? Depending on which street corner you're hanging out on, you also may hear the same question about the Fritzel family.
Commissioners indicated they're kind of tired of the question. And the first commissioner to step up to the plate on that subject was Bob Schumm, who it is fair to say didn't see his base of support in the last election come from the Chamber of Commerce folks.
"I often get asked why does this person always get a deal?" Schumm said. "What I can say is we aren't looking at the people we give deals to. We're looking at the project. It just so happens that there are two major families that do a lot of development work in Lawrence. But where would we be without those people willing to take a risk to drive our economy forward in these slow times?"
Members of the public also drew attention to a Compton-led project in Topeka that has received public incentives but has been behind on its property taxes. Commissioners didn't seem to be impressed with the argument that the Topeka project should serve as a red flag.
"We have structured this deal in a way to protect the city," said Mayor Aron Cromwell. "We're talking about making a $28,000 a year payment to the developer, and that payment is contingent upon them paying their property taxes. The risk to the city is nonexistent."
But Cromwell went a step further.
"I think it is unfair to point fingers at individuals," Cromwell said. "It is ridiculous. If you're going to do that, you had better be willing to turn around and look at everything good that person has done."
• Also, some of you may be wondering if the Compton project received any incentives when it comes to use of the city's parking garage. It did not. At one point, the project was asking for reserved spaces in the adjacent city parking garage. But the group dropped that request months ago after it became clear it was not a politically popular idea. The project will be allowed to buy parking passes for the garage — just like the general public can — at the standard city rate.
Copyright 2018 The Lawrence Journal-World. All rights reserved. This material may not be published, broadcast, rewritten or redistributed. We strive to uphold our values for every story published.