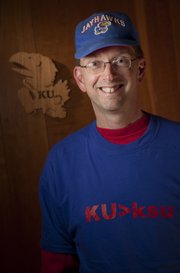 Making the switch?
Here's some advice from Terry Dahl for any other Wildcats looking to join Jayhawk Nation:
Be open and up-front about it. Dahl sent an email to family and friends, and he encourages others not to be shy coming out of the purple closet. "It feels better when you get it off your chest," he says.
Fair-weather fandom? Forget it. "I'm totally against that type of behavior. You have to be on board: All KU, or all K-State. One way or the other. It's weak, in my own mind, to root for KU in basketball and K-State in football."
Shed the purple fashion — the T-shirts, the 'Cat paws and everything else. "I got rid of it. There isn't anything purple in my house. If somebody's truly a KU fan or a K-State fan, you shouldn't have clothing from the other school."
Having grown up bleeding purple, following Jack Hartman and standing and screaming and covering his ears in Ahearn Field House — all on the way to earning his bachelor's degree in finance from Kansas State University — Terry Dahl should by all rights subscribe to the familiar EMAW slogan reverberating out of Manhattan these days.
Every Man a Wildcat?
Not anymore.
Dahl is a converted Jayhawk.
"It's nothing bad about K-State," says Dahl, who works as controller and payroll administrator for a hotel company in Lawrence. "It's just that KU is better overall."
After seeing the light, the KSU alumnus admits to living an odd existence as a full-fledged citizen of Jayhawk Nation, complete with Rock Chalk Jayhawk shirts, a "ksugrad4KU" online moniker and a steadfast allegiance to all things Crimson and Blue.
He's even a card-carrying member of the Kansas University Alumni Association, despite never having attended a class on Mount Oread, at the Edwards Campus near his Overland Park home nor anywhere else where Jayhawks are educated.
"KU is just a better school," he says. "And it's not just sports."
Dahl's self-described "conversion" came back in 2004, less than a year after he'd worn purple and cheered for the Wildcats while attending Kansas State's Big 12 championship game against Oklahoma in Kansas City, Mo.
Attending games at Memorial Stadium and Allen Fieldhouse will do that to you, he said. The fan commitment. The waving wheat. The Rock Chalk Chant.
Factor in what he considers superiority in athletics — KU leads the all-time series in both football and men's basketball — to go along with stronger academics, a livelier social life, a more pleasing campus and better surroundings and, well, he couldn't help changing teams from an allegiance perspective.
That his wife, Beth, also happens to be a KU graduate, fan and descendant of Jayhawks might have helped, although he suspects other forces might have helped fuel an intervention.
"She thinks it was just a midlife crisis," says Dahl, who received his K-State degree in 1985, married his Jayhawk a decade later and then, in 2002, contracted colon cancer. "Now I really, honestly, don't think it has anything to do with it, but maybe it was all that chemo and radiation that made me change."
Dahl — now cancer free — certainly hadn't expected to convert.
His entire family had attended K-State. His folks met at Kite's, a popular bar in Aggieville. His dad even had coached soon-to-be-KSU legend Lon Kruger as a high school basketball player at Silver Lake High School.
These days, though, all the purple paraphernalia is gone, donated through his church to others less fortunate. Even his KSU degree is packed away somewhere, far less accessible than his more than 27 KU T-shirts and dozens of KU jackets, hats, shorts, socks and other accoutrements that support his newfound fate.
"A lot of people think it's really weird," Dahl admits. "I can totally understand that."
But it's reality, as the Jayhawks and Wildcats prepare to tip off yet another edition of their Sunflower Showdown this coming Wednesday night at Allen Fieldhouse.
Of course, he's counting on his adopted team to topple his higher-ranked alma mater.
"This isn't one of KU's better teams, and K-State is scaring me. I've been real impressed with what they did in Hawaii," said Dahl, of the Wildcats' recent championship at the Diamond Head Classic. "It's going to be a very tight game but I'll say KU wins, because it's in Allen."
Spoken like a true Jayhawk.
Copyright 2018 The Lawrence Journal-World. All rights reserved. This material may not be published, broadcast, rewritten or redistributed. We strive to uphold our values for every story published.