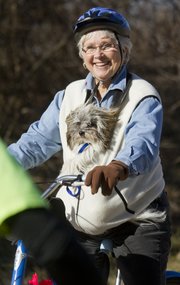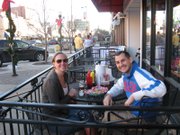 Before New Year's Eve parties got started, many people on Saturday got to celebrate a less-annual joviality: unseasonably warm weather.
Lawrence saw a high of 64 degrees, and residents with outside hobbies like cycling, golfing and motorcycle-riding got to enjoy their passions later into the year than usual. It was breezy as well as balmy — the National Weather Service in Topeka issued a wind advisory for Douglas County from noon to 9 p.m. Saturday — but those riders, walkers and shoppers weren't complaining. And neither were the businesses that support them.
Angela Watts said she planned a late lunch outside Jefferson's, 743 Mass., several days ago, knowing spring-like temperatures were predicted for an especially mild day of several this late-to-start winter.
"We're always outside downtown if it's 60 degrees," she said.
Saturday, it just so happened to be 60 degrees on the last day of the year.
Golfers took the opportunity to take to the greens. Alvamar Golf Course, 1809 Crossgate Drive, was totally booked for the day, more than a month beyond the date most put their clubs back in the garage, said David Dunn, head golf professional.
Frank Dehart said he's golfed 15 times since that Nov. 15 date. In comparison, he said that last year those clubs stayed put for three months straight over the winter holidays.
He has two "snowbird" trips planned in the near future — to Florida and to California, where his meteorologist son lives — but thinks he might not need the respite from snow he thought he would.
"I think it's going to stay mild like this for the whole rest of the winter," he said.
Perhaps on the opposite end of the hobby spectrum, Jill Patterson, of Overland Park, was one of many motorcyclists who packed the parking lot of Slow Ride Roadhouse, 1350 N. Third St.
Patterson described herself as "not a fair-weather fan" — she rides mostly despite the weather.
"We just like to ride," she said.
Gar Crisman, another of motorcyclist, was on a monthly ride with a group from various parts of Kansas City. He's not a fair-weather fan, either, but said he couldn't help but enjoy the unexpected December sun.
"It's always well worth it to ride, but this is just an especially great day," Crisman said. "And a great way to finish out the year."
Copyright 2017 The Lawrence Journal-World. All rights reserved. This material may not be published, broadcast, rewritten or redistributed. We strive to uphold our values for every story published.