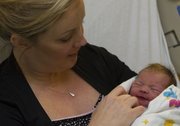 No one chooses to give birth to the first Lawrence baby in the new year; there are too many variables, and it just comes down to luck.
And the prize for the winning parents? Your room at Lawrence Memorial Hospital gets flooded with cameras and reporters all wanting a glimpse of the baby.
But in the moment, it all seems pretty cool.
"She's the first one," said a smiling Dana Cummins, who at exactly 6:23 a.m. on New Year's Day gave birth to Claire Jamison Cummins, a 6-pound 2-ounce, 19-and-a-quarter-inch girl quickly nicknamed "Little Peanut."
Taking part in a 60-year-old tradition of celebrating Lawrence's first baby of the new year, Dana, 26, sat with her husband, Tyler, 27, and talked about the whirlwind end of 2011 and the beginning of 2012.
The early arrival of baby Claire, who was due Jan. 9, has already paid dividends for the couple who barely missed out on the prized yearly child tax deduction for 2011.
The couple just returned home from walking their dog Chester when Dana's water broke, fully relieving the couple from having to slap together a dish for a New Year's Eve party.
"We kind of got off the hook," joked Tyler, a junior golf manager at the Lawrence-based Kansas Golf Association.
Tyler, despite the months of preparation, said he was still caught off guard by the moment.
"I naturally freaked out," said Tyler, who ran right to the "baby book" to see what he was supposed to do next. "I was speechless."
Once at LMH, it all went smoothly, said Dana, a Kansas University graduate and pharmacist at Dillon's.
As midnight passed, Dana, a Dodge City native, said they all started thinking more about their chance to have the first baby of 2012. But according to LMH staff, several other women were delivering that day.
"We knew there was a little bit of competition," she said, talking about the other mystery couples angling for the first birth.
Surrounded by family, including Dana's parents, beaming as first-time grandparents, Tyler had taken over holding the baby, and despite his earlier anxious moments seemed like a natural with Claire in his arms.
"It's definitely sunk in," said Tyler of now officially being a dad.
So far, Tyler's had an easy run at fatherhood, as Claire's been a content baby.
"She's been so good," he said.
Copyright 2018 The Lawrence Journal-World. All rights reserved. This material may not be published, broadcast, rewritten or redistributed. We strive to uphold our values for every story published.