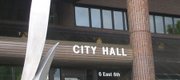 Subscribe to the email edition of Town Talk and we'll deliver you the latest city news and notes every weekday at noon.
News and notes from around town:
• The trio of burgers, billiards and beer always has been high on my list of favorite tavern-like items beginning with 'B.' But how about brie, bikes and beer? A new North Lawrence business is set to give it a try.

Craig Nowatzke — who for years ran a street cart hot dog stand at Ninth and Mass. streets — is set to open Gaslight Gardens at 317 N. Second St. in the little stone building just south of Johnny's Tavern.
The business is going for a European beer garden theme, with a twist. The establishment also will rent bicycles by the hour for folks who want to ride along the adjacent Kansas River levee trail, or perhaps even take the bikes into Downtown Lawrence. As for the brie, well, the tavern won't have a grill, so Nowatzke plans to serve some meats and cheeses and baguette sandwiches.
Nowatzke is a North Lawrence resident and a big fan of the levee trail system. He also said he's a big fan of beer and patios.
"I have taken a couple of trips to Europe, and it is all about small places and outdoor patios," Nowatzke said. "I realized that's really my style too."
The Gaslight space — the name derives from the Gaslight Tavern, a counterculture icon that existed on Mount Oread in the '60s and '70s — is notoriously small. The legal occupancy of the space is 39, but you all would have to be really good friends to get that many in the room. Nowatzke said 25 is a more reasonable number, but he said the revamped patio area will easily hold 40 people.
The new "biker" bar, though, will mean an end to Nowatzke's days of running the corner hot dog stand. Nowatzke over the years became a bit of a downtown fixture. Nowatzke, who uses a wheelchair, would draw quite a bit of attention as he would set up his Sun Dog hot dog stand, and I can attest he had quite a following. I spent one very hot day with him in June 2009. It still makes my Top 5 list of articles I've most enjoyed. Nowatzke said he is looking to sell the stand, and hopes somebody will keep the corner business going.
As for Gaslight Gardens, he said he plans to have a grand opening on St. Patrick's Day weekend. Just so you know, I'll do green beer, but I won't do green cheese. Well, if I had enough green beer, I might.
• It looks like it may be time to keep an eye on Lawrence's largest cable television provider. The Wall Street Journal — citing sources familiar with the situation — reported Tuesday that Knology had hired a financial adviser and is looking to be acquired.
For those of you who don't remember, Knology is the company that purchased Sunflower Broadband from the Lawrence-based The World Company — the owner of this Web site and the Journal-World — in October 2010.
The Journal report didn't include much speculation on potential buyers of Knology, and Knology officials did not respond to the Journal's request for comment. But the article did raise the possibility that a buyer won't be a cable company at all. The report noted private equity firms are enamored with cable companies because of their monthly cash flows.
Knology — based just outside of Atlanta — has about 800,000 subscribers in Alabama, Georgia, South Carolina, South Dakota, Tennessee, Florida and Kansas. Interestingly, the company has more customers who subscribe to its phone service, about 277,000, than it has for its video or Internet services.
The share price for Knology jumped about 10 percent on Tuesday after word of a possible deal surfaced. The Journal speculated the company could sell for about $1.5 billion.
Or, of course, it may not sell at all. But it is something to keep an eye on.
• There is news of another business shakeup, this one much more certain. Rod's Card & Gift — for years it was Rod's Hallmark — is closing. The business at 2329 Iowa St. began a going-out-of-business sale today. My understanding is all merchandise is 25 percent off.
Rod's parted ways with Hallmark in June, ending a run spanning many decades with the Kansas City greeting card giant. A message on the store's answering machine said the store was closing because its owners had decided to retire after 48 years in business. The manager of the store told me via e-mail that a closing date for the store hasn't yet been set. I'll also keep my ears open for news of any tenants that may be filling that space, which is in the shopping center just south of 23rd and Iowa streets.
In today's high-tech world, the greeting card business is an odd one. But who would have thought even 10 years ago that Lawrence — which is home to one of Hallmark's larger card manufacturing plants in the country — wouldn't have a Hallmark-branded store?
Copyright 2018 The Lawrence Journal-World. All rights reserved. This material may not be published, broadcast, rewritten or redistributed. We strive to uphold our values for every story published.