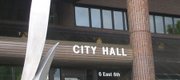 Subscribe to the email edition of Town Talk and we'll deliver you the latest city news and notes every weekday at noon.
News and notes from around town:
• UPDATE:I just heard back from the fine folks in the Lawrence-Douglas County planning office about Monday night's Planning Commission meeting and the votes about the proposed retail/mixed use development along the Kansas River near Johnny's Tavern. I have the results here, but I'm not sure they bring a lot of clarity to the situation.
Planning commissioners apparently were pretty split on the idea of redeveloping the area around Johnny's into a downtown-like style. The Planning Commission tied 4-4 on the issue of whether to approve the comprehensive plan amendment to allow downtown commercial zoning for the area along the Kansas River levee. So, technically, that request will go to the City Commission with a recommendation for denial.
But the Planning Commission recommended approval of the actual rezoning of the property to downtown commercial on a vote of 5-4. The difference, of course, is that one extra member of the Planning Commission was present for the votes on the rezoning, which were taken after the comprehensive plan amendment. It is my understanding Planning Commissioner Brad Finkeldei arrived to the meeting late. But when he did arrive he basically was supportive of the project, and voted in favor of the downtown commercial zoning for the area. You probably can safely assume he would have voted for the comprehensive plan amendment as well, if he would have been there.
At the end of the day, the project remains alive and will head to the City Commission, which will make the final decisions on the development. But it is interesting the issue was such a divided one given that it had a positive recommendation from the city's planning staff and also received some support from Downtown Lawrence Inc., although that support had some qualifiers. I'll do some more checking to see what the issues likely will be when it gets to the City Commission.
• Evidently, there are eight regions of Chinese cuisine, which is news to me. I can think of the Dillons food bar region, the Hy-Vee food bar region, and the mystery region of the Styrofoam box that has sat on my bottom refrigerator shelf for the last two weeks. Maybe it is just the MSG headache I have, but there is no way I can think of eight.
Well, the region near 23rd and Iowa streets may enlighten us all. A new Chinese restaurant called 8 Flavors has opened in the former Peking Taste location at 2210 Iowa.
The restaurant has been open a few days, and currently is offering a lunch and dinner buffet of fairly standard Chinese favorites. But in early March that is set to change. Owner Will Soo will scrap the dinner buffet and roll out a new dinner menu that features some entrees that give folks a taste of the various styles of Chinese cuisine.
Like how about this: Chinese chicken fried steak? (I'm picturing a Chinese fellow in a cowboy hat at an all-night truck stop after a night of two-stepping. At least that's how I ate most of my chicken fried steaks.) Well, this may be a little different. Soo is envisioning a crusted egg pan-fried chicken steak with garlic scallion pan sauce, short grain rice, pickled vegetables and jalapenos. Then there is a twist on the classic crab rangoon. Soo is planning to offer smoked salmon rangoons. He also plans pork belly sliders with a sweet and sour slaw and a chicken liver and Dijon pate.
The restaurant also will feature homemade noodles, buns and dumplings. The menu also will include traditional favorites such as Kung Pow Chicken, Beef & Broccoli and General's Chicken.
Soo is a trained chef who has worked at Pachamamas, The Thai House, The Eldridge and elsewhere. But he also grew up in a traditional Chinese restaurant. His family operated The Peking Restaurant, which was at 23rd and Iowa before it became Peking Taste, which moved out several months ago to a new location at 23rd and Louisiana streets.
"After Peking Taste left this spot, I just wanted to do something that would try out my culinary skills, and put them to the test," Soo said. "I want to do a hip, modern take on Chinese and Taiwanese food."
• If you want to put your listening skills to the test, come on down to Lawrence City Hall tonight. The big item on the agenda will be the city's Solid Waste Task Force Report, also known as trash. But there are other issues on the agenda, including an audit of the city's rental registration program.
That report may get lost in the shuffle tonight, but it will be interesting to see if it sparks a larger discussion about expanding the city's rental registration program, and raising the fee that landlords must pay to register.
If you remember, the city's current program only requires rentals in single-family zoned neighborhoods to register. Apartment complexes and rental houses in multi-family zoned neighborhoods — such as Oread neighborhood — don't have to register.
The audit by City Auditor Michael Eglinski did not find any major problems with the city's rental registration program. But the audit notes that the $25 per property registration fee doesn't even come close to covering the city's costs to operate the registration program, which includes an inspection at least once every three years. Eglinski estimates the $25 fee would need to be increased to $40 or more to cover the cost of the program. It also appears some college communities are comfortable charging a much higher fee, if owners want to register a single-family home as a rental. In Iowa City, for example, the fee is $167. I wonder if such a fee discourages single-family homes from becoming rentals.
The audit also points out that Lawrence's rental registration program is pretty small, especially considering the size of Lawrence's rental community. As we've previously reported, the Census Bureau's American Community Survey now estimates that 58 percent of all the housing stock in Lawrence is rental units. But Eglinski — who is a first-class data miner — found an interesting statistic that puts that point into even sharper focus. Out of 367 metro areas, Lawrence has the 37th highest percentage of rental units. In Kansas, only Manhattan had a higher percentage at 61 percent. Another factoid for you, residential rental payments in 2010 totaled more than $200 million in Lawrence.
So, with all of that in mind, it will be interesting to see if the city takes up a discussion about raising the registration fee and expanding the program to include other rentals. I know several neighborhood groups have been lobbying for the expansion of the program.
• If buying is more your speed than renting, click here to see the latest list of real estate transactions as recorded by the Douglas County Register of Deeds.
There are a couple of commercial sales of note. It looks like John and Judy Inverarity, longtime operators of Johnny I's Auto Sales at 814 Iowa St. have swung a deal to purchase the real estate that their car lot sits upon. The couple bought the property at 814 Iowa from Jayhawk Property LLC, which lists Thomas Hocker of Prairie Village as its resident agent.
Also, there is activity out at the Bella Sera condo development at 4500 Bob Billings Parkway. If you recall, that condo development by Jes Santaularia and others fell into financial hardship and was taken over by the bank. Well the bank, M&I; Regional Properties LLC, has now sold 25 condo units to Bella Sera Ventures LLC. It took a little digging, but it appears that group is basically another bank, or technically a mortgage company. Records down at the Douglas County Register of Deeds office indicate the new owner is connected to Gateway Mortgage Corporation out of Kenosha, Wis., which is kind of near M&I;'s headquarters in Milwaukee.
I put a call into several folks — including Gateway, a local real estate agent who brokered the deal and also to some residents out at Bella Sera — but haven't heard any details about what the new owners plan to do with the units. I did hear one tip — unconfirmed, so take it for what you will — that Gateway doesn't plan to hold onto the property. Instead, the mortgage company bought some "bad paper" from M&I;, and then started flipping properties. Again, this is unconfirmed, but I've heard the Bella Sera property was snatched up by a Wichita investment group. Perhaps, that deal hasn't yet closed so it hasn't showed up on the Register of Deeds' list of transactions. But we watch it every week, so we'll keep an eye open.
Copyright 2018 The Lawrence Journal-World. All rights reserved. This material may not be published, broadcast, rewritten or redistributed. We strive to uphold our values for every story published.