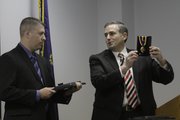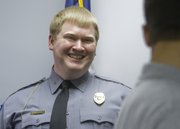 On Feb. 26, 2011, Lawrence police Officer Jonathan Evinger stopped a vehicle with an illegal license plate near 26th and Iowa streets. It was very early in the morning, an icy Saturday in Lawrence.
People get pulled over all the time. But Police Chief Tarik Khatib said Monday that each of these stops carried "certain inherent risks."
This stop definitely turned risky.
The driver, Louis Galloway Jr., 21, and his passenger became violent when Evinger and Officer Stephen Ramsdell, who had arrived to assist, tried to arrest Galloway for driving on a suspended license.
According to testimony during Galloway's trial last year, Galloway struck Evinger in the head, causing him to fall to the ground. Galloway's juvenile passenger punched and kicked Ramsdell during the incident.
"Although Officer Evinger was severely injured, he continued to stave off the attack by the two by deploying his pepper spray on the passenger," Khatib said during a ceremony Monday, which was one year and one day after the incident. "Soon, against seemingly overwhelming odds, both officers were able to place the suspects under arrest."
Galloway is now serving a five-year prison sentence for a conviction on aggravated battery on a law enforcement officer.
Evinger's injuries changed his law enforcement career. He suffered a concussion and damage to his eye, which kept him from patrol. Ramsdell suffers cuts, bruising and swelling to his face. He later returned to regular duty.
Khatib said Evinger will go into medical retirement.
"I want to personally thank you for four years of outstanding service," Khatib said. "And it really saddens me that you can't stay on any longer."
During an emotional ceremony at the police department's Investigations and Training Center, 4820 Bob Billings Parkway, Khatib presented Evinger with the department's first Purple Heart award to honor officers injured in the line of duty. Evinger and Ramsdell stood with family members and accepted department commendation awards from Khatib.
"I'm going to miss all you guys. I will take a little bit of a piece of everything you've taught me since I've been here," Evinger said.
He stressed friendship to both younger and more-experienced officers.
"Take care of each other because you never know when something is going to happen," he said.
The Lawrence Police Officers' Association also presented Evinger with an award for his service.
"These guys are representatives of the jobs you all do every day," Khatib said at the end of the ceremony, "putting yourselves out there in the interest of public safety."
Copyright 2018 The Lawrence Journal-World. All rights reserved. This material may not be published, broadcast, rewritten or redistributed. We strive to uphold our values for every story published.