About that pyramid of beer bottles in your garage following Saturday's game: You don't have to keep it anymore, unless of course you want to.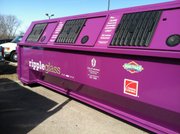 Lawrence city officials on Monday unveiled four new locations where glass can be dropped off for recycling.
"There has been a lot of glass dropped off at the Walmart recycling center since the 12th and Haskell center stopped taking it several weeks ago," said Kathy Richardson, the operations supervisor for the city's Waste Reduction & Recycling Division. "This should help alleviate that a lot."
The city will run the program in cooperation with Ripple Glass, which will take the glass and sell it to companies that will use it to make beer bottles for Kansas City's Boulevard Brewing Co., and fiberglass insulation.

The bin locations:
• Dillons, 4701 W. Sixth St.
• Hy-Vee, 3504 Clinton Parkway
• Hy-Vee, 4000 W. Sixth St.
• On the Rocks liquor store, 1818 Mass.
City crews will monitor the bins each day and will empty the glass once the bins become more than half full. The glass will be stored on city-owned land at the former Farmland Industries property. When enough glass to fill a semi has been accumulated, Ripple will pay to have the glass shipped to its facility in Kansas City.
Mayor Aron Cromwell said Monday he sees the new system as a step toward increasing the city's recycling efforts. The city's Solid Waste Task Force has recommended creating a new citywide curbside recycling service. But Cromwell said such a service can't feasibly accept glass, which led him to approach Ripple about creating a Lawrence service several months ago.
"I just see these four bins as a first step," Cromwell said. "We want to look at how we can expand it downtown and have them near several bars and restaurants that produce a lot of bottles."
The service accepts more than just glass bottles. Mike Utz, a principal in Ripple Glass, said his company also uses food jars and can accept both dark and clear glass. The dark glass is used to produce new bottles for Boulevard Brewing Co., and the clear glass is used by a Kansas City-based fiberglass insulation manufacturer.
Ripple, founded in late 2009, recycled 18,000 tons of glass. Utz said the area is in a unique situation of operating a successful glass recycling business because there are several users or recycled glass in the Kansas City area. He said most areas struggle to recycle glass because the cost to transport the material very far is greater than the selling price of recycled glass.

"When we started looking at this, there were 80,000 tons of glass in Kansas City going into the landfill each year," Utz said. "We saw there was a huge opportunity there, but it has taken awhile to figure out a system."
It is not taking Lawrence residents long to figure out there's a new glass recycling system up and running. The bin at On the Rocks was drawing users on Monday morning while city officials were holding a ceremony to open the service.
"I will be using it a lot," said Rachel Hunter, who said she lives three blocks from the new bin. "Recycling should be easier to do in Lawrence, and this will help."
The new bins are a definite shade of purple, but not even that seem to cause many concerns with Lawrence residents on Monday.
"We can get over that," said Matt Easley, general manager of On the Rocks, "especially if we keep winning."
Copyright 2018 The Lawrence Journal-World. All rights reserved. This material may not be published, broadcast, rewritten or redistributed. We strive to uphold our values for every story published.