For the first seven minutes and 59 seconds of the fourth quarter Friday night, Lawrence High's boys basketball team couldn't get a single shot to drop through the net.
Photo Gallery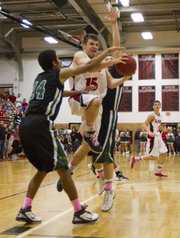 LHS boys vs. Free State
None of that mattered, though, once Lions junior guard Shane Willoughby scored the game-clinching lay-in at the buzzer, and LHS knocked off pesky Free State, 38-36, in Part 2 of the City Showdown.
The grind of a game closed in dramatic fashion in the jam-packed "Jungle" that is the LHS gymnasium, with the ball in the 5-foot-9 guard's able hands. Willoughby was close to 40 feet away from the basket with the clock winding down. Then he started his drive to the hoop with just more than six seconds left and, with a smooth spin-move in the lane, Willoughby gained just enough space to score the layup.
Watching from the opposite end of the floor, FSHS coach Chuck Law thought his Firebirds were in a good spot when there were eight seconds to go and Willoughby was on the right wing, nowhere near the lane. Law had what he considered to be his best defensive unit on the floor, but he gave the game's hero credit for making a clutch play.
"You can't get beat off the bounce and let a guy get all the way to the basket like that," Law said.
FSHS (7-13) tied the game at 36 with 1:01 remaining when senior guard Brett Frantz scored an off-balance bucket inside. At that point, Frantz thought Free State had a real shot at a victory.
"Especially when we tied it up," Frantz said after scoring a game-high 17 points. "Everybody's going crazy, we had momentum, the team was feeling good."
Lawrence coach Mike Lewis was fully aware of Free State's confidence at that point, and called a timeout following Frantz's tying basket. The Lions (13-7) took their starting center, Bryce Montes de Oca, out of the game in favor of an all-guard lineup, so they could utilize their "five-game" set on offense.
With brothers Shane and Troy Willoughby, Jake Mosiman, Logan Henrichs and Anthony Buffalomeat on the floor, Lewis instructed his team to hold for the final shot and wait for the six- or seven-second mark to attack. With those five on the floor, Lewis didn't care who had the ball when it got to that point.
"Our guys are in the moment," the coach said, "and it's their game to win or lose."
After playing most of the night in his usual No. 20 jersey, Shane had to trade it in for a No. 15 in the fourth quarter after his lip got busted.
"There was a lot of blood in that game," he said following an eight-point effort. "Bryce was bleeding, Logan was bleeding, I was bleeding. It was just an aggressive game."
It was his aggression in the heat of the tied rivalry game that set up a moment the junior will carry with him for a long time. With every pair of eyes in the gym, including those of former Kansas University men's basketball coach Larry Brown, watching, Shane said he drove with the intention of drawing a foul, but he "happened to make it." His shot fell and the Lawrence faithful erupted.
"It's kind of a dream, you know, to make a game-winner in the Lawrence High-Free State game," Shane said. "It was crazy."
The Lions, who unexpectedly lost senior guard KJ Pritchard to a right-ankle injury hours before the Senior Night game, led 33-29 entering the fourth quarter. They missed their first six shot attempts and only managed three points via the free-throw line (Montes de Oca made one of two, and Henrichs gave LHS a 36-34 lead by cashing in two with 1:12 left) before Shane's game-winner.
Free State, meanwhile, got six of its seven fourth-quarter points from Frantz, who went 3-for-4 in the final four minutes. Law said some miscues cost his team in the devastating loss.
"I thought everybody played really well," Law said. "We were too careless with the ball in the first half, careless on a couple of critical possessions in the fourth quarter."
The Firebirds led 20-17 at the half after holding LHS to 2-for-13 shooting in the second quarter. However, Mosiman caught fire from long range in the third quarter.
"The first half I wasn't making anything," Mosiman said of missing his first four field-goal tries of the night.
That changed in a big way in the third, thanks in part to some advice from Pritchard, who told Mosiman to keep shooting. The junior did, and connected on three straight from downtown, helping Lawrence take a 28-27 lead. After Buffalomeat scored on a put-back, and Free State's Shawn Knighton later answered with a bucket in transition, Mosiman closed his third-quarter performance in spectacular fashion with a three-pointer from about eight feet behind the arc on the left wing. He scored all 12 of his points in the third.
Although FSHS had Gabe Patterson on the floor this time around (he injured his hip in pre-game warm-ups prior to an LHS overtime win at Free State on Dec. 16), the Lions didn't allow the senior forward to get many looks at the rim. Patterson had a game-best nine boards but scored only six points on 2-for-3 shooting.
Overall, Free State hit 16 of its 38 attempts (42 percent), while Lawrence was only 14-for-45 (31 percent). However, the Firebirds were 2-for-8 at the foul line, and the Lions made six form long range (two by Shane, four by Mosiman) while FSHS connected on just two three-point tries (Cole Moreano and Frantz each hit one.)
Things like that tend to be the difference in this rivalry, and Law couldn't help but recall how Free State had come out on the winning side in some close games a year ago, before LHS snagged the last two victories.
"They're a year older. They're a year wiser," Law said. "They made the play they needed to to win the game."
— Check out Benton Smith's "Prep Appraisals" from the game."
Copyright 2018 The Lawrence Journal-World. All rights reserved. This material may not be published, broadcast, rewritten or redistributed. We strive to uphold our values for every story published.