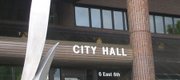 Subscribe to the email edition of Town Talk and we'll deliver you the latest city news and notes every weekday at noon.
News and notes from around town:
• It sounds like it could be the plot for a sitcom, or maybe even one of those heart-string dramas: Two single moms who have been longtime friends team up to buy a bar with a bad reputation and clean it up.
Actually, though, it is just another story at 19th and Haskell in East Lawrence. A pair of single mothers — April Oakes and Michelle Seidner — have bought the rough and tumble bar that formerly was known as the Crosstown Tavern at 1910 Haskell.
The duo has renamed the establishment Playerz, and is rebranding it as a sports bar.
"We know the image hasn't been the greatest over there," said Oakes, who has a day job at a local attorney's office.
Oakes said she and Seidner — who is a local teacher — started by giving the establishment a complete cleaning, and they've also added eight, flat-screen, high definition televisions to make the establishment sports-friendly. They even went so far as to give the women's restroom a K-State theme (Seidner is a K-State fan), and the men's bathroom a KU theme (Oakes is a diehard Jayhawk.)
Oakes said the bar wants to keep the blue-collar East Lawrence crowd that comes in after work, but it is trying to move away from the "nightclub type of crowd" that had spawned some violence in the past. Oakes said a sport bar theme seemed to be a natural because there are very few sports bars east of Massachusetts Street.
"I think if people just stick their head in the door, they'll be amazed at how different the place looks," Oakes said.
So far, the establishment does not serve food because it lacks a kitchen. But Oakes said the bar is exploring a partnership with a diner that is in the same shopping center that would allow for some basic food to be served.
The new direction is the latest twist for the establishment. After years as the Crosstown Tavern, the bar changed names and owners in October, when it became known as El Perro. For awhile even, the business was open each morning as an espresso shop, presumably to try to attract the large crowd that gathers in the shopping center's parking lot to catch the Johnson County commuter bus.
Playerz, which has been open for about a month, has hours of 11 a.m. to 2 a.m., seven days a week.
• Speaking of alterations, there's a new South Lawrence business that specializes in them. Ashley's Alterations — a shop that hems and repairs all types of clothing — has opened at 3010 Four Wheel Drive.
Susan Ashley had operated a business by the same name in Eudora for years, and then retired. But now she is back after finding a flaw with that retirement thing.
"The problem with early retirement is you have lots of time and no money," Ashley said.
Ashley said she decided to open the new business in Lawrence "because rent in Lawrence is much more reasonable than it was seven or 10 years ago."
You get extra credit points if you remember Ashley's other business that she operated in Lawrence in the 1970s. If you said Susie Creamcheese, give yourself a gold star that says Lawrence Old Timer on it. The boutique shop was near 10th and Mass., right next door to a place called the Voodoo Hut.
But there's no creamcheese (or voodoo, as far as I know) at the alteration shop. It is in the business of replacing zippers, hemming pants, changing sizes and other such work for men's, women's and children's clothing.
Maybe I'll have to give it a try. My wife is actually an excellent seamstress, but for some reason I still break out in a cold sweat every time I see her walking around the house with scissors in her hand.
• Just a quick heads up that you may start seeing some construction at 815 Mass., the location that used to house a formal wear shop next to Mark's Jewelers.
Lawrence architect Paul Werner has filed plans at City Hall to gut the ground floor and prepare it for a new tenant. But Werner tells me that the building's owner doesn't yet have a tenant lined up, but is interested in either retail or restaurant uses. In the meantime, Werner's project will create a "white shell" space so a tenant can move in quickly once one is found.
But the real substantive work will be happening upstairs. Plans call for about $160,000 worth of construction to add a two-bedroom apartment and a one-bedroom apartment on the second floor of the building. My understanding is that downtown owners are continuing to see strong interest in that second-floor type of living space.
Copyright 2018 The Lawrence Journal-World. All rights reserved. This material may not be published, broadcast, rewritten or redistributed. We strive to uphold our values for every story published.