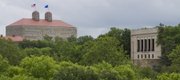 Subscribe to the email edition of Heard on the Hill and we'll deliver you the latest KU news and notes every weekday at noon.
Your daily dose of news, notes and links from around Kansas University.
• I enjoyed this story I picked up from the Chronicle of Higher Education (warning: pay wall) about an adjunct writing teacher at the University of Georgia who has a really interesting way to take on issues facing adjunct faculty today.
His name is Joshua Boldt. He's 32, and he's used his blog and other social media to alert adjuncts across the country to post to a publicly editable spreadsheet at his website, The Adjunct Project.
It's a nice crowd-sourcing project where adjuncts across the country can finally have one central database to compare information among universities. The adjuncts are posting salaries, working conditions, benefits information and a host of other data, too.
It does have its limitations, of course, but I think it's a heck of a lot better than what's out there now. And Boldt gets into a bit of what I liked about the project on his blog, when he talked about how he answered a question from the Chronicle on why he thought the project had taken off.
"I responded that I think the success of the project is due to the fact that it's a study done entirely by adjuncts for adjuncts," Boldt wrote. "There is no filter who approves information. No sponsor that requires the data to be softened or skewed. No 'middleman' who controls the numbers. The data is raw. Alive."
As of Wednesday evening, I didn't see anyone on the spreadsheet from KU, but it'll be interesting to see if any pop up. I'd love to get a peek at how KU compares to some of the other places here. While I haven't written extensively on this topic, I may well try to tackle it soon.
• A number of major college athletics programs — including KU — have come up just short in overriding a measure that would have stopped a new rule allowing athletic institutions from offering multi-year athletics scholarships, the Chronicle reports in its Players blog.
Today, each player is only awarded a scholarship on an annual basis.
The newspaper also got hold of a document that lists how each institution voted. KU, Kansas State and the Big 12 Conference all opposed the measure, which came just two votes shy of being overturned (out of 330 votes cast).
It also pointed out that though one of the major arguments against the rule was that it would be costly to lock players in like that, many of the richest institutions were among those voting against the rule.
• Saturday is a big basketball day, and not just because of the KU-Missouri game (OK, maybe mostly because of the KU-Missouri game).
But there will also be some littler basketballers taking to the court at Robinson Gymnasium, too.
KU's Sport Management Club is helping to sponsor a three-on-three basketball tournament for first- and second-graders for the Boys & Girls Club of Lawrence.
I heard that more than 100 first and second graders have signed up for the free event that begins at 8 a.m. Saturday.
• I think I should have a three-on-three Heard on the Hill basketball tournament (maybe these deans could play). The only admission fee, of course, would be a tip for Heard on the Hill sent to ahyland@ljworld.com.
Copyright 2018 The Lawrence Journal-World. All rights reserved. This material may not be published, broadcast, rewritten or redistributed. We strive to uphold our values for every story published.