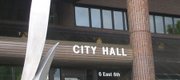 Subscribe to the email edition of Town Talk and we'll deliver you the latest city news and notes every weekday at noon.
News and notes from around Lawrence:
• Plans for a new West Lawrence recreation center are getting about as complicated as me trying to figure out how to use an elliptical machine.
Mayor Aron Cromwell confirmed last night the city is putting on hold plans to sign a contract with Lawrence-based Gould Evans architects to create concept plans and cost estimates for a west side center.
That's because city officials want to allow more time for a private proposal that we reported on last week to develop. Details about that plan continue to be sketchy, but it is becoming obvious the private folks are thinking on a grander scale than the city.
Cromwell confirmed to me the Kansas University Athletics Department has been approached about participating in some type of tournament and recreation center. The possibility of including track and field amenities at the site has been raised. No commitments from any party, however, have been given, is my understanding.
It also sounds like the private folks are shooting for a much larger fieldhouse than what the city has envisioned. The city previously has discussed a fieldhouse that would include about five youth-size basketball/volleyball courts that could host regional tournaments. It sounds like the number of courts in a private proposal would grow significantly.
All this will mean the project will cost more than the $15 million city officials previously have set as a target. My understanding is part of the private effort will involve reaching out to prominent Kansas University donors to support what will be billed as a unique partnership among the city, the university and the private sector.
As for the local forces who are driving this project, city officials are still remaining mum about who brought this idea forward. But I do think it is worth noting that a development group led by Lawrence businessmen Steve and Duane Schwada previously have made an offer to donate land to the city at the northwest corner of Sixth and the South Lawrence Trafficway to host a larger recreation center. I also think it is worth noting members of the Fritzel family previously have partnered with the Schwadas on development in the area near Sixth and the SLT.
City officials have told me they've been asked by the party who brought the idea forward to not reveal his identity, at the moment, because the idea is still in its rudimentary stage. But Cromwell said Tuesday night he does expect to give the public more information about who is involved and the basic concepts in the next couple of weeks.
"The idea of bringing the university, the city and private individuals together is intriguing," Cromwell said. "But it is complicated to bring that together, and it takes time."
It appears KU Coach Bill Self and his foundation certainly are still interested in the project. If you remember, Self's foundation had expressed an interest in donating at least $1 million to the city project. I've been led to believe a major issue with the Self camp is whatever project moves forward be significant enough that it can serve as a showcase type of facility for youth athletics. This new proposal may accomplish more of those types of goals.
It will be interesting to watch all of this come together. A big question will be what level will the private folks expect the city to participate at? The city has expressed some interest in investing $15 million in a new center — although commissioners have never formally committed to that. Will a private plan move forward with the assumption the city is still willing to put $15 million toward a project?
Grab a seat on an elliptical and watch. (Wait, that's the problem. Ellipticals don't have seats.)
• The idea of being more business-friendly was front and center at Tuesday's Lawrence City Commission meeting. As we reported, commissioners were enthusiastic about a plan by the Briggs Auto Group that will require the city to make exceptions to several city rules at the Lawrence Auto Plaza. (Although, owner Russ Briggs did note to commissioners that he's not asking for any tax breaks as part of the project. "We don't expect our tax bill to go down," Briggs said.)
But it was another project that ended up highlighting the frequent conflict of whether the city is friendly enough to business. As we previously reported, there are plans to convert two bays of the existing Raco Car Wash at 720 E. 23rd St. into a quick lube service center.
The project, though, hit a snag when city engineers insisted city code required a separate water and sewer line be installed to service the quick lube center. The developers had wanted to use the existing water and sewer line that serves the car wash. After all, they said it is all part of the same structure and owned by the same people.
But city officials said the ownership could change in the future — such as the car wash could be owned by one group and the quick lube owned by another. That could create controversy over who must pay the water and sewer bill. The developers said: So what? The city has the authority to shut off the water and sewer service if the bill isn't paid. In other words, any future private parties would have all the incentive in the world to figure out how the water bill should be paid.
The real issue with all this is cost. It is estimated a new water and sewer line will cost about $20,000 to install. That would increase the cost of the entire project by about 10 percent. Plus, the developers noted that of that $20,000, nearly $9,000 are "system development" fees charged by the city.
Anyway, commissioners didn't need much debate to settle this issue. Commissioners unanimously sided with the developers and said they did not need to install the new water and sewer lines.
Then it got interesting. City Commissioner Hugh Carter spoke up and said he was frustrated this ever made it to the City Commission level.
"We're not asking the developer to spend this money because we're benefiting the community or protecting the community in any way," Carter said. "They're improving the conditions there. They are investing in infill, and we're making an interpretation that is just being difficult on a small-business owner.
"I understand the perception this creates in the business community. I would like to see us start looking at these issues and making common sense decisions instead of putting people through this bureaucracy."
Longtime City Commissioner Mike Amyx did step in and put a word in for staff, noting these type of interpretation issues have been fairly common for city commissioners to make over the years.
"We do write a lot of code around here and ask staff to carry out that code even-handedly," Amyx said. "These appeals will continue to come in as long as we are doing a number of these infill developments."
But that didn't seem to make Carter feel any better about the situation.
"What I'm talking about is when an appeal is not necessary," Carter said. "There are interpretations made every day. There are business-friendly interpretations and there are business-unfriendly interpretations. It seemed like this was a pretty easy interpretation for me."
Copyright 2018 The Lawrence Journal-World. All rights reserved. This material may not be published, broadcast, rewritten or redistributed. We strive to uphold our values for every story published.