Prairie Village — During a second-quarter timeout, Free State coach Bryan Duncan gave guard Jackie Garcia one objective: Shut down Shawnee Mission East's Caroline Nick.
The senior ended up performing her role brilliantly, as Garcia's defensive play helped Free State to a 60-51 victory over Shawnee Mission East.
"It was definitely an honor that they trusted me to guard her," Garcia said. "I was just big on sticking to her and not letting her shoot at all."
Before the defensive switch, Nick — an Emporia State signee — had scored 16 points in 11 minutes on 6-for-7 shooting. That included perfect 3-for-3 accuracy from three-point range.
Photo Gallery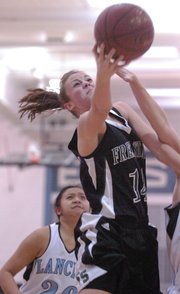 Free State girls vs. Shawnee Mission East
Following the timeout, Nick made just one of her next nine shots, as Garcia face-guarded her and fought through screens to make sure she couldn't get free.
"She rose up to that challenge," Duncan said, "and I thought did a really great job on her."
The 5-foot-8 Nick finished with 24 points on 9-for-18 shooting. Eight of those nine field goals were scored on defenders other than Garcia.
"She really worked hard, and obviously it showed in the stats," Free State guard Chelsea Casady said of Garcia. "I think her energy shut them down, because (Nick) was one of their best players."
Offensively, Casady was the biggest contributor, tying a career-high with 18 points on 6-for-7 shooting. The junior also had Free State's first seven points.
"I think the only person that could stop her throughout most of the game was me," Duncan said, "because I had her on the bench a little too long in the first half."
Free State had a 10-point fourth-quarter lead sliced in half before a layup from Lynn Robinson helped put the contest out of reach with 26 seconds left.
The senior Robinson contributed 15 points on 6-for-11 shooting while also shutting down East point guard Shannon McGinley, who finished with nine points on 3-for-14 shooting.
Kennedy Kirkpatrick added 15 points for the Firebirds (14-5).
Duncan ended up coaching for Free State on the due date for his first child. His wife, Angela, gave him the OK when it became apparent that the baby was most likely going to be born a few days late.
Duncan coached with his cell phone in his pocket, just in case.
"I think I was a little extra edgy tonight and a little more emotional," Duncan said, "but we did a good job."
Copyright 2018 The Lawrence Journal-World. All rights reserved. This material may not be published, broadcast, rewritten or redistributed. We strive to uphold our values for every story published.