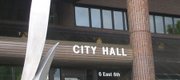 Subscribe to the email edition of Town Talk and we'll deliver you the latest city news and notes every weekday at noon.
News and notes from around town:
• Take it for whatever you think it is worth, but homebuilding activity in Lawrence is off to a better start in 2012 than it was a year ago.
New numbers for January building permits are out, and they show construction began on seven new homes during the month. That's up from zero in January 2011. In case you have forgotten, 2011 ended up producing the lowest number of new single-family home starts in Lawrence since at least the 1950s.
If you really want to read too much into one month's worth of data, you can note that the seven permits are the highest total for January in at least the last five years. It is just one month but if you are in the homebuilding industry, you'll take your good news in any portion size you can get it.
I expect to get numbers about home sales in January soon. When I previously talked to Realtors they said the warm weather in January caused activity to be higher than normal. We'll see whether home sales numbers also contain some good news.
In terms of total construction activity, the January report was a mixed bag. The city issued permits for $2.76 million worth of projects. That's down from $3.26 million in 2011, $3.44 million in 2010, and $3.10 million in 2008. But the total is better than the $2.55 million in January 2009.
• One area that has been providing a boost to the construction industry for many months now is the new-car business. As we previously have reported, Laird Noller Hyundai is underway on a million dollar plus addition at its South Iowa location, and Briggs Auto has filed plans for a multimillion-dollar showroom for its Nissan brand in the Lawrence Auto Plaza.
Now, add a third. Work is underway on a $300,000 renovation of the showroom for Crown Volkswagen at 3400 S. Iowa. The project was the largest one to pull a building permit in the city in January.
Bill Egan, manager for Crown Volkswagen, said the project basically involves a complete remodeling of the showroom and the exterior of the building. Work is expected to be completed in April.
• Another week, another set of real estate sales to report. Click here to see the list of land transfers recorded by the Douglas County Register of Deeds for the week ending Feb. 13.
There are a couple of commercial real estate sales of note. The building that houses Urban Outfitters at 1013 and 1015 Mass. has sold. Jayhawk Equities, a fairly large property owner in Downtown Lawrence, has sold the property to OLP Lawrence LLC. I don't yet have any information on OLP Lawrence. The company is not showing up as a registered corporation in the state of Kansas, but I'll do some more checking and let you know if I get a name. (Note: Previously I had identified this as the Buffalo Wild Wings building. That was a mistake on my part. My apologies.)
Also, the law office at 645 Country Club Terrace — which is basically at the intersection of Sixth and Rockledge has sold. Christopher Miller has sold the property to LDC Properties LLC. That corporation is headed up by Keith Jones, who I believe is the dentist who has office right next door at 647 Country Club Terrace.
Copyright 2018 The Lawrence Journal-World. All rights reserved. This material may not be published, broadcast, rewritten or redistributed. We strive to uphold our values for every story published.