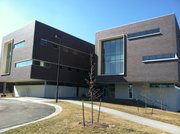 A new building on Kansas University's Edwards Campus will fully open soon, and will house students and faculty for what will become 10 new degree programs to be offered at the campus.
Classes are already being conducted in the new 75,000-square-foot Business, Engineering, Science and Technology, or BEST, building.
The building has one 32-seat classroom, one 40-seat classroom, eight 45-seat classrooms, four 65-seat tiered lecture halls and one 100-seat lecture hall.
It has space for 36 faculty and administrative support offices along with four computer labs.
It is the third major educational space on the Overland Park campus, joining 55,000-square-foot Regents Center and 82,000-square-foot Regnier Hall.
Bob Clark, vice chancellor for the Edwards Campus, said he has taught a class in the new building. His class is conducted one-third online and two-thirds in person, and he said he particularly enjoyed a new feature of the building that allowed for courses to be recorded. Video cameras in the classrooms and microphones hanging from the ceilings record classes to be posted online later. It's not a live stream, Clark said, but it's an improvement over the existing facilities.
Clark said one of the new programs, a bachelor's degree in business administration, is already operational. A second, a bachelor's degree in information technology, is pending approval from the Kansas Board of Regents. Potential programs in the future could include a professional science master's degree in environmental impact or engineering project management.
A bachelor's degree in exercise science is also a possibility, he said, which could tie into a physical therapy program at KU Medical Center.
All of the bachelor's degree programs will include agreements with Johnson County Community College to help students there transition to the KU programs, Clark said.
The new building was paid for using funds from the Johnson County Education Research Triangle sales tax.
A 4,000-square-foot conference center will allow the campus to expand its rental business. The space will accommodate 400 people with theater-style seating and 240 people with banquet-style seating, said Laurie Brown, facilities marketing manager for the campus. The campus typically hosts anywhere between three to 10 groups in a week, Brown said. The groups that use the space must be business or educational in nature.
"We don't do weddings, that kind of stuff," Brown said.
The new area will also provide space for KU and KU Medical Center to host events.
The campus intends to use the money generated from the rental space to pay down the bond on the new building, Brown said.
Copyright 2018 The Lawrence Journal-World. All rights reserved. This material may not be published, broadcast, rewritten or redistributed. We strive to uphold our values for every story published.