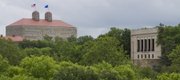 Subscribe to the email edition of Heard on the Hill and we'll deliver you the latest KU news and notes every weekday at noon.
Your daily dose of news, notes and links from around Kansas University.
• The campout lottery drama associated with the Missouri game that I referenced last week has apparently come and gone.
KU Athletics reported nearly 2,000 students showed up (they made the brief video below) for the drawing for seat order.
And the powers that be decided to hold a vote on that rule change that would have benefited groups that had been more devoted through the entire year and attended the most lotteries.
According to the basketball camping Twitter feed, the measure was narrowly defeated (even though I believe it was approved in the past) by a score of 59-57 (I bet each group got a vote).
The Twitter feed also mentioned that the group that earned the No. 3 spot (named "Merv the Perv") got crossed off on the first day for not having someone present when the roll was called. Not fun for them, I'd wager.
• If you're still looking for some help doing your taxes, here's another resource for you on campus.
Legal Services for Students is offering a number of free workshops. The group, which has been assisting international students for years, is offering workshops for U.S. residents this year as well.
A complete list of the workshops is available on the group's website. The LSS director told me that this is "teach people how to fish" stuff instead of "giving people a fish" stuff, meaning the focus is on learning the process instead of having someone fill out your forms for you.
Students should bring 2011 W-2 forms, social security cards and copies of their 2010 returns.
Your income must be below $57,000, and you have to have an email address to participate.
• A KU alumnus and television journalist is leaving Kansas City for Washington.
Russ Ptacek, whose investigative work at KSHB-TV has earned him numerous recognitions, is headed for WUSA in Washington.
He began his career as a student journalist in Lawrence at the student radio station KJHK and served for a time as the founder and CEO of the News TV Corporation in Lawrence, which provided consulting, research, reporting and producing services to network news organizations, according to his online biography at KSHB.
• I can't do your taxes for you, but I can write you a pretty sweet haiku if you submit a tip for Heard on the Hill to ahyland@ljworld.com.
Copyright 2017 The Lawrence Journal-World. All rights reserved. This material may not be published, broadcast, rewritten or redistributed. We strive to uphold our values for every story published.