Photo Gallery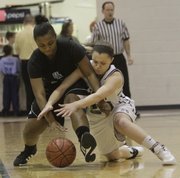 Seabury girls vs. University Academy
Seabury girls basketball coach Becky Bridson felt a bit older after Friday's 38-31 victory over University Academy.
"I told the kids that they're trying to give me my first gray hair. They about gave me my first five right there," Bridson said. "My heart rate was through the roof, but it was nice to pull out the win."
The Seahawks survived 10 fourth-quarter turnovers to hold on for the victory. Seabury had just seven giveaways in the first three quarters combined.
"That was starting to get people a little frustrated," Seabury guard Alyson Oliver said. "But we had to just push through and finish through the game."
Seabury won with defense, holding UAHS to 19 percent shooting (11 of 59).
At one point in the first half, Seabury held UAHS 10 minutes and six seconds without a field goal.
The Seahawks (8-7) also had to survive the final minutes without point guard Alexa Gaumer, who fouled out with 2:41 remaining. Reserve player Sarah McDermott fouled out exactly one minute later.
Courtney Hoag, a 6-3 forward, was Seabury's biggest contributor late, scoring her team's final six points.
Gaumer and Hoag posted 13 points each, while Hoag led the Seahawks with 12 rebounds.
Oliver was the only Seabury player who was honored at Senior Night on Friday.
"I couldn't have asked for a better game," Oliver said. "It's a pretty big win."
Copyright 2018 The Lawrence Journal-World. All rights reserved. This material may not be published, broadcast, rewritten or redistributed. We strive to uphold our values for every story published.