Change can be a good thing, but that doesn't necessarily mean it will be easy.
That's what Seabury Academy girls basketball coach Becky Bridson has learned this season.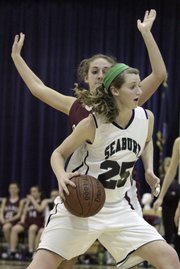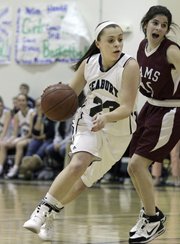 The Seahawks entered 2011-12 with a handful of returning players — veterans, as Bridson called them — and a pair of transfers coming in that had the potential to help turn around a struggling program that hadn't even played a full season's worth of games in the previous two years.
The newcomers — juniors Alexa Gaumer and Courtney Hoag, who both transferred from Free State High — had to come in and adapt to a new environment, a new coach and a new school.
To facilitate that, Bridson had to ask returning Seabury players such as seniors Alyson Oliver and Hannah Spomer to not only be welcoming and accepting of their new teammates, but also to make sacrifices. Starting positions and playing time would be limited for some players who had been entrenched in the program.
"I asked a lot of those kids over the years," Bridson said of the Seabury mainstays, "and they had to step up and handled it beautifully."
Once players old and new got to know each other, Oliver said, the chemistry started to develop.
"We were all kind of excited about it," she said.
Gaumer said she and Hoag were cautious as new Seahawks, and the response from their teammates facilitated the transition.
"Initially, you don't want to step on any toes just because the girls have been here before, and they have their own tight-knit group," Gaumer explained, "but we did a lot of team-bonding at the beginning of the year, and they basically incorporated us and now we're a big family."
Hoag said the toughest part of being a transfer was having to wait until January to be eligible to contribute.
"You just want to play," she said.
Because the old Seahawks opened their arms and accepted the former Firebirds, Seabury has gone 7-7 this season. With the 5-foot-6 Gaumer running the point and the 6-3 Hoag filling the paint, the newcomers have formed a killer combination. Gaumer leads the team with averages of 18.5 points, 4.3 assists, 5.0 steals and 79-percent free-throw shooting and she is third on the team with 4.3 rebounds a game. Hoag leads Seabury with 8.8 rebounds and 3.9 blocks. The junior post is second on the team with 12.9 points and 2.4 steals.
Spomer said Gaumer protects the ball, shoots it and distributes it, and Hoag is an easy target down low with her size.
"They've basically meant everything to us," Spomer said of the transfer duo. "They get all of our points for the most part."
Bridson said Gaumer does a lot of things well, but her best traits might be her toughness and the fire she has in her belly. The coach said the Seahawks' lead guard puts the team on her shoulders and plays almost every minute unless she gets in foul trouble or Seabury has a big lead.
"I know she must be exhausted, but she's just done an incredible job for us," Bridson said.
Hoag's size and athleticism, meanwhile, serves as a nice compliment to Gaumer's outside game. Hoag has the touch and footwork to score in the lane on offense and the height and wingspan to dominate on defense. As Gaumer likes to say, Hoag has "the Brittney Griner effect" (referring to the Baylor University women's basketball junior).
"She has the ability to affect shots, whether she blocks them or not," Gaumer said of Hoag, noting her teammate swats her fair share of opponents' attempts.
Plus, Hoag crashes the glass — "She will take out two or three defenders just to get a rebound," Gaumer said.
Another transfer who has helped out Seabury this season is Sarah McDermott, a junior who played previously at Veritas Christian. McDermott is one of the many players Bridson has tried out as a starter alongside Gaumer and Hoag. The coach has been rotating the lineup to find the right mix during the rebuilding season and has also used Oliver, Spomer and juniors Padget Sutherland, Raquel Dominguez and Taylor Sweeney.
The lineup took a hit when freshman Reilly Malone suffered a knee injury in January, but Bridson said Seabury hopes to have her back before the season concludes.
As the postseason (something the Seabury girls program hasn't been a part of since 2008) gets closer, Hoag said the team has progressed in the right direction.
"People have just stepped it up," she said.
Winning games has been a significant reward for all involved, but Gaumer said becoming part of the program also has meant a lot to her and Hoag.
"We're just enjoying every second of it," Gaumer said.
At 5:30 tonight, Seabury plays host to Kansas City, Mo. University Academy for Senior Night.
Copyright 2018 The Lawrence Journal-World. All rights reserved. This material may not be published, broadcast, rewritten or redistributed. We strive to uphold our values for every story published.