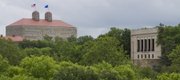 Subscribe to the email edition of Heard on the Hill and we'll deliver you the latest KU news and notes every weekday at noon.
Your daily dose of news, notes and links from around Kansas University.
• If you haven't taken the time to delve through the documents associated with the court case of Albert Romkes (many of which are available on the story I wrote yesterday), I guess I wouldn't blame you.
But in a nutshell, Romkes, a mechanical engineering professor, brought a lawsuit against KU trying to get a judge to overturn the university's decision to deny him tenure.
But, for me, one of the most interesting part of all this was that KU had to make most of its tenure file on Romkes a public document through the court system. That meant a rare look behind the scenes for this process. I learned a lot.
One, that an awful lot of people can weigh in on one of these decisions if a faculty member presses the issue. Three different committees — one at the department, one at the school and another at the university — and several different people were involved with the decision.
At least the department chair, the dean, the vice provost for faculty development, the provost, the chancellor and now a district court judge will all have weighed in.
Romkes told me he had a few surprises, too, during this process. One I'm guessing isn't well-known among faculty members.
Over and over again in the documents, KU relies on a rule that said Romkes wasn't the principal investigator for any externally funded grants as a means of denying him tenure.
Well in a blissful bit of irony, one month after the chancellor's final decision, Romkes received word that he'd been awarded a $240,000 grant from the National Science Foundation.
KU, of course, essentially argues that's too little, too late, and that it was aware of the grant's pending status anyway throughout the review process.
But, anyway, the rule that I'm betting most faculty members don't know of is a change to the tenure policy.
Romkes told me several faculty members suggested that he apply for another year, and said that in the past faculty members could apply for a seventh year of tenure review. Only that rule has apparently been changed. Now, the six-year review process is all you get.
At any rate, it will be an interesting case to watch.
• I got bogged down with that story on Thursday afternoon, and didn't have time to chase down another lead that more than one person alerted me to involving a change in the way the student lottery was conducted for basketball camping.
Fortunately, the University Daily Kansan did do a story, and so I'm happy to include the link here.
The official basketball camping Twitter feed was getting hammered a bit over this change.
I used to help run a KU basketball camping group when I was a student, and I'm pretty sure the process works much the same today. I was explaining this process to some folks around the paper recently, and was a little surprised that the process isn't very well-known.
The article goes into it a little bit, but the change essentially deals with the lottery, where all the groups interested in joining the list of campers march down to Allen Fieldhouse the morning after a home game.
The change, apparently, would give priority seating at the Missouri game to groups who showed up for most of those lotteries. That, as you can imagine, would benefit some groups but not others.
I remember not all the groups would show up for these lotteries. You could add your group's name to the bottom of the list at any time. Many groups didn't want to come immediately after the last game if there were, say, 10 days between home games.
And you didn't really have to, either. You could typically wait a few days and then go join the bottom of the list with few consequences.
I also remember a few rules disputes when I was involved with this process, and it was always an interesting thing to hash out, to say the least. People take this stuff very, very seriously. But in the end, though, that was what made it great. It was all student-run, and there weren't really official leaders of the process. The group made its own decisions. And nobody died in the process. That I can recall, anyway.
• Yeah, that Albert Romkes tenure lawsuit? I heard about that first from a sweet Heard on the Hill tipster who emailed me at ahyland@ljworld.com. Join their legion. It's fun stuff, I promise.
Copyright 2018 The Lawrence Journal-World. All rights reserved. This material may not be published, broadcast, rewritten or redistributed. We strive to uphold our values for every story published.