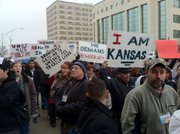 Topeka — More than 300 people on Wednesday converged on the Statehouse to protest the policies of Gov. Sam Brownback, Secretary of State Kris Kobach and the influence of the American Legislative Exchange Council on the Kansas Legislature.
"We want the governor to know he needs to put Kansans first," said Tamara Werth, of Lawrence, one of the co-founders of Kansans United in Voice and Spirit, which organized the rally along with several other groups.
Those at the event criticized Brownback's tax overhaul, which would increase taxes on low-income Kansans while cutting taxes for wealthy Kansans and businesses. They also blasted his school finance plan as creating more funding inequities between rich and poor school districts. Brownback has said his tax plan will produce jobs, and his school funding proposal will give local taxpayers more say in how much to spend on education.
Before the Statehouse event, more than 100 people protested outside Kobach's office.
Kobach is a former law professor who helped draft tough immigration laws in Alabama and Arizona and successfully pushed for the law in Kansas to require photo ID to vote.
He is currently asking the Legislature to adopt proof of citizenship requirements for new voter registration. Kobach has said the laws are needed to prevent voter fraud and illegal immigrants from voting.
But Marie Johnson, of Salina, and a member of the NAACP, said Kobach's initiatives will lower turnout by making it more difficult for people to register and to vote. Protesters also filed Open Records requests for Kobach's schedules because they said he spends a lot of time on issues outside of Kansas. Kobach has said he works on immigration issues in other states in his spare time.
Several speakers criticized the Legislature for approving bills proposed by the corporate-funded American Legislative Exchange Council.
State Rep. Ann Mah, D-Topeka, said numerous ALEC measures were advancing in the Legislature. "It's not that they are pro-business. They are anti-worker, anti-people," she said of the ALEC proposals.
Mah said she went to the rally because of her opposition to Kobach's voter registration plan, which if approved would take effect June 15.
Mah said thousands of Kansans will face obstacles in registering and voting because they can't locate their birth certificate or don't have a government ID.
Those at the rally braved chilly, drizzly weather as the wind picked up. Several buses came from Wichita carrying members of various groups, including Kansans Count, which works on voting rights and other issues.
Will Katz, of Lawrence, sang a song to the crowd entitled "Welcome to Brownbackistan."
And many people in the crowd carried signs that read: "We Want Democracy," "No Hate in Our State," and "ALEC Is Not Your Friend."
Copyright 2017 The Lawrence Journal-World. All rights reserved. This material may not be published, broadcast, rewritten or redistributed. We strive to uphold our values for every story published.