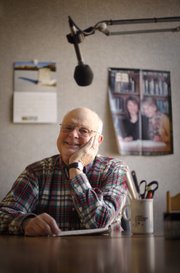 Want to help?
For information on volunteering for Audio-Reader, contact Jennifer Nigro at jnigro@ku.edu or call 864-4604.
Sometimes, when Chuck Fisher gets up at night, he takes the opportunity to practice an exercise that helps him connect with the visually impaired people he reads to every week as a volunteer for the Kansas Audio-Reader Network.
"I close my eyes and try to get back to bed, and I picture myself in the place where I was blind and not able to see the light of day," he says.
An avid reader who has always taught himself to do new things by reading about them, Fisher imagines that if he lost his ability to read, he would feel very isolated. It's a feeling he doesn't want anyone to have. That's why he's spent nearly 40 years volunteering for Audio-Reader, reading the Lawrence Journal-World live to listeners every Monday morning.
Fisher, who was nominated by Audio-Reader for the United Way Roger Hill Volunteer Center's Wallace Galluzzi Outstanding Volunteer Award, does more than deliver the daily news to Audio-Reader subscribers. He's become a friend to many of his longtime listeners, said Jennifer Nigro, coordinator of volunteers for Audio-Reader.
"When Chuck reads, it's like he's reading to his best friend, sitting next to him in a chair," Nigro says. "A lot of our listeners don't get out much and don't have a lot of social interaction. So they come to think of our readers as friends because they come into their homes every day."
Audio-Reader reaches 8,000 listeners in Kansas and Missouri who have a disability that prevents them from reading printed material. They may have MS and not be able to hold a book. They may have suffered a brain injury and find it more helpful to hear the material. But the majority of the listeners are visually impaired, Nigro says.
These subscribers are able to tune into Audio-Reader broadcasts via closed circuit radio and hear the organization's 350 volunteers read everything from hometown newspapers to national magazines to books and even special requests, such as textbooks or instruction manuals.
Fisher knows how valuable this service is to listeners. His grandfather, who was visually impaired, was unable to read his local newspaper.
"I saw that what he was not gaining from listening to the news was the area news — obituaries and weather forecasts," Fisher says.
So when he sits in front of the microphone every Monday morning and selects the stories he will read, he is mindful that he must give his listeners the news they may not get anywhere else.
Fisher has been volunteering for Audio-Reader since 1974, just a few years after the service was founded in 1971. The secret to achieving such longevity as a volunteer, he says, is to find a volunteer opportunity that fits you well. Through the years, Fisher has served the community as a long-time businessman, as a city commissioner and as a member of the Lawrence-Douglas County Planning Commission. But it's the Monday morning gig, comfortably reading the day's news to a host of friends he'll likely never meet, that still fits Fisher well.
"What keeps you going is sometimes somebody will mention your name, and say, 'I heard you on the radio,' and you know that people are listening and enjoying it."

Copyright 2018 The Lawrence Journal-World. All rights reserved. This material may not be published, broadcast, rewritten or redistributed. We strive to uphold our values for every story published.