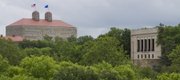 Subscribe to the email edition of Heard on the Hill and we'll deliver you the latest KU news and notes every weekday at noon.
Your daily dose of news, notes and links from around Kansas University.
• A little part of campus may be getting a little brighter soon, according to the University Daily Kansan.
Nunemaker Center, that whimsically-designed small building across Engel Road from Templin Hall that houses KU's Honors Program, will be getting some new lighting, the paper reports.
KU Student Senate's campus safety advisory board allocated $5,000 for the project.
The building is open until 10 p.m.
"We hope it will make it safer for students employed there, students going to class and students studying," Meredith Pavicic, campus safety advisory board chair, told the Kansan. "But we also want to see more students utilizing the space because it is safer."
• Well, the provost's office has hosted four of those research summits now on the various "strategic initiatives" that will focus KU research for the future.
But the activity is still ongoing, and a new website lists upcoming additional opportunities to collaborate, starting today with a "brainstorming session" at 3 p.m. at the Commons in Spooner Hall to explore possible proposals that would align with a request for proposals from the United States Agency for International Development.
This process, as always, for me isn't quite as interesting as the eventual outcomes, likely to come (at least initially) in terms of new faculty hires in these various areas.
But I'll be watching, and if there's something you think I should be particularly aware of here, don't hesitate to let me know.
• If your memory is sharp, you'll remember an article I wrote back in December about a new car-sharing program coming to KU.
I decided to check and see how it's been going. During January, a new car-sharing program at KU had 68 people sign up. They drove 67 hours in the cars, said Donna Hutline, KU's director of parking and transit.
The university has four cars through the Hertz available for use, two at the Kansas Union and two at Daisy Hill. The cars cost $8 per hour to use.
Hultine said she anticipated the usage could increase in February, with students back in classes for the entire month. KU classes resumed on Jan. 17.
Though the service is intended for students, it is available for anyone interested. Sign-up can be completed online at
http://parking.ku.edu/hertzondemand.
• My email inbox is always well-lit, so you can be sure I'll see a tip for Heard on the Hill there at ahyland@ljworld.com, even without $5,000 worth of lights.
Copyright 2018 The Lawrence Journal-World. All rights reserved. This material may not be published, broadcast, rewritten or redistributed. We strive to uphold our values for every story published.