An unexpected change in personality didn't do Free State High's girls basketball team any good Tuesday night against Shawnee Mission Northwest.
Photo Gallery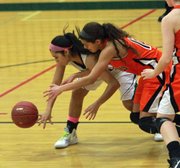 Free State girls basketball vs. Shawnee Mission Northwest
The Firebirds weren't themselves in a 57-44 home loss to the Cougars, leaving FSHS coach Bryan Duncan bewildered.
"We seemed very disinterested and unorganized tonight, really throughout," Duncan said following the defeat.
With SMNW senior guard Sarah Schmidt lighting it up in the first quarter — she scored Northwest's first 13 points before finishing with a game-high 18 — Free State (12-5) trailed most of the game.
After the Firebirds went 6-for-29 from the floor in the first half, the Cougars (12-5) led 24-15 at the half and began pulling away in the fourth quarter, when Northwest backup post Amanda Hoelting scored seven of her 11 points.
In the meantime, Chelsea Casady's four fourth-quarter points were a team-best in that same span for Free State, and SMNW outscored the home team 16-10 in the final eight minutes.
FSHS senior guard Jackie Garcia, who finished with 14 points, six rebounds and three assists, said it was an uncharacteristic performance for the Firebirds.
"Every single one of us got really frustrated and lost our composure and just got down on ourselves," Garcia said. "When we do that, we don't play well at all."
She said going through on-court adversity doesn't usually have that kind of impact on Free State.
"We've had certain players do that in the past, but never all five people on the floor," Garcia said. "So when that happened, everything just fell apart. We were not clicking at all."
The only quarter when Free State appeared to have its usual fight was the third. That's when Garcia started asserting herself in the half-court and scored 10 points. But the Firebirds' 8-for-12 shooting in the third didn't help them any on the defensive end of the floor. Sophomore McKayla Ross scored seven of her 13 points for SMNW in that stretch, and the Cougars entered the fourth with a 41-34 lead.
Duncan wished he had an answer for the disappointing performance. He said the Firebirds lost their team philosophy against SMNW, because they didn't move the ball well on offense, and defensively they were getting beat on backdoor cuts.
"We can be a really good team," Duncan said. "As individuals we're just not talented enough to be successful, and we talk about that all the time."
Kennedy Kirkpatrick also scored 14 points for Free State to go with seven boards, and Casady finished with eight points and six boards.
Still, there was little to get excited about for the Firebirds.
"We kind of just got our butts kicked tonight," Duncan said. "That kind of sums it up."
At 5:30 p.m. Friday, Free State plays host to Olathe North.
Copyright 2018 The Lawrence Journal-World. All rights reserved. This material may not be published, broadcast, rewritten or redistributed. We strive to uphold our values for every story published.