TOPEKA ­— Clay Blair, the first chairman of the Kansas Bioscience Authority and former chairman of the Kansas Board of Regents, said Tuesday he was surprised and disappointed that President Obama did not propose new funding for the National Bio and Agro-Defense Facility in his budget.
Getting NBAF was a top priority of the Bioscience Authority, Blair said.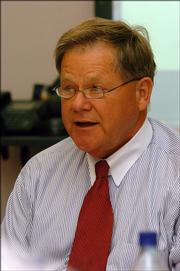 And helping Kansas win the $650 million lab for Manhattan in a nationwide competition was construction of another lab at Kansas State University, the $54 million Biosecurity Research Institute, under an initiative pushed by the Kansas Board of Regents.
"All these were strategic plays — each step had to fall in line," Blair said.
Blair said he had no idea now whether NBAF would become a reality.
State elected officials say they will do everything possible to get the lab built and operating.
Under the proposal, scientists at NBAF will research deadly animal diseases, such as foot-and-mouth disease. The facility would replace the Plum Island Animal Disease Center, an aging lab off Long Island, N.Y.
Kansas officials have touted NBAF as the anchor to what could be an internationally known animal health corridor from Manhattan to Columbia, Mo., that would have billions of dollars of economic impact.
Workers in Manhattan have already cleared the site for the project.
Last year, Obama included $150 million for the project, but Congress appropriated only $50 million.
The White House said that wasn't enough to start construction.
"In light of this, the Administration will conduct a comprehensive assessment of the project in 2012, which will consider the cost, safety and alternatives to the current plan that would reduce costs and ensure safety," the budget document unveiled Monday states.
Obama has asked the Department of Homeland Security to re-evaluate the project. His budget would also spend $10 million to increase the amount of research being done at K-State's Biosecurity Research Institute.
While Kansas officials applauded the $10 million, it is NBAF they want to nail down. The state was selected as the NBAF site in 2008 with operations to start as early as 2018.
Sen. Pat Roberts, R-Kan., "will consider all legislative options to fund this critical national security priority," his office said.
But the effort will face a Congress seeking to cut spending, plus congressional officials from New York who are urging the Obama administration to keep the Plum Island site in operation.
NBAF was also dealt a setback when a National Academy of Sciences study identified a 70 percent chance that a release of foot-and-mouth disease could occur at the new facility during its projected 50-year lifespan. Damages to the livestock industry could total as much as $50 billion if a release were to occur, officials have said.
The academy is again studying the feasibility of placing the facility in Kansas, and a final report is due this summer.
Copyright 2018 The Lawrence Journal-World. All rights reserved. This material may not be published, broadcast, rewritten or redistributed. We strive to uphold our values for every story published.