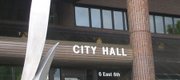 Subscribe to the email edition of Town Talk and we'll deliver you the latest city news and notes every weekday at noon.
News and notes from around town:
• When you are a school-aged kid you dream about snow days (and when those dreams are dashed, based on the reaction from my kids this morning, you throw your pajamas across your room, pout over your cereal and vow to become a superintendent so you can cancel school on days like this). But when you are a dad-aged kid, you dream of beer days.
Well, adults 1, kids 0 because there indeed is a beer day coming up. Free State Brewery's Chuck Magerl has teamed up with Downtown Lawrence Inc. to organize what is being billed as the inaugural Kansas Craft Brewers Exposition. The event is set for 1 p.m. to 5 p.m. on Saturday, March 3, in the Abe & Jake's building along the Kansas River.
So far, about 25 breweries are signed up to provide samples at the event. Participants include Lawrence mainstays Free State, 23rd Street Brewery, and the Kansas City big boy Boulevard Brewing Co. But there are lesser known entrants as well, including Flying Monkey Brewing Co., Green Flash Brewing, Great Divide, and Lucky Bucket. To see the full list, click here.
Tickets are $30, and that includes a commemorative sampling glass. Hy-Vee also will be on hand with free food samples, and food vendors also will be on site. Any net proceeds from the event will be donated to Downtown Lawrence Inc. Tickets are available at Ticketmaster, Free State Brewery and other selected locations.
Downtown is always looking for another signature type of event, and it will be interesting to see how this one develops. Here's guessing this may turn into a very big deal for Lawrence in the years ahead. Lawrence seems to have several things going for it when it comes to an event like this:
• Magerl is a successful businessman with the resources and know-how to promote this.
• Lawrence-based Grandstand Sportswear and Glassware — Chris Piper's expanding company — produces specialty glassware for craft brewers across the world.
• Last but certainly not least, Downtown Lawrence is a great place to drink beer.
"I think it could be pretty big right out of the gate because of Free State's reputation, and there are already so many craft brew aficionados in Lawrence," said Cathy Hamilton, director of Downtown Lawrence Inc. "Free State has been a ground-breaking business from the start, and they are a real destination for downtown. I think this is their way of giving back to downtown, and doing it in a really fun way."
The day could set up to be a monster day for downtown. In addition to the event, the town is expected to be full that day of fans to see KU take on Texas at Allen Fieldhouse at 8 p.m. That's right. Arrive in town at 1 p.m. for the festival. Four hours of sampling, then a couple of hours of dinner and drinks. Nothing like six hours of pre-game.
I can hear it now: Chalka Rock Hawk, oh geez. Woo!
• It would have been nice if they would have scheduled this beer event for Tuesday, Feb. 28. That's when city commissioners are scheduled to begin their discussion of making changes to the city's trash and recycling system. I have a feeling some craft brew would make that subject more palatable.
Commissioners will hold a study session at 4:30 p.m. on Feb. 28 to discuss the issue. This won't be the meeting where they take any action to actually change the trash system. Commissioners can't vote in study sessions. Instead, it will be the commission's first opportunity to receive the report of the city's Solid Waste Task Force. Task force members will be on hand to explain the report and answer questions.
The issue of requiring all single-family residences to use a city-supplied plastic trash cart will be a major topic of discussion. Already there has been push-back from some members of the public who want to continue using their good old trash cans or simply toss a bag to the curb. Well, the task force is trying to drive its point home that the carts really will make for a much more efficient system.
Task force members added to their final report some more specific data about why they think the carts are a winner. Their research found that the city spent almost $4,000 per worker for workers' compensation insurance issues in the Solid Waste Department. That was more than three times higher than the next highest department, the Police Department. The report also notes there is evidence that the city of Olathe saw its workers compensation costs decrease by more than 50 percent after it made the transition to a cart system.
The carts allow crews to use hydraulic lifts to dump the trash instead of manually slinging a trash can. But the big savings comes from the fact there are usually fewer crew members when a city has a cart system. Usually, trash truck crews drop from three people down to two or one, depending on what type of trucks a city uses.
I'm guessing the cart issue won't be the biggest one city commissioners struggle with. The pricklier subject will be whether to make everybody pay for curbside recycling regardless of whether they use it. The task force is solidly behind that idea, but it is uncertain whether the same can be said about the voting public. An even thornier issue will be whether the City Commission will consider privatizing the city's entire trash and recycling system. That was a non-starter for the task force, but it will be interesting to see if commissioners will get pressure to at least explore whether there is money to be saved there.
Anyway, the Feb. 28 study session will be at City Hall — unfortunately not at Free State Brewery.
• Another week, another set of property sales to report in Douglas County. Click here to see the land transfers as recorded by the Douglas County Register of Deeds for the week ending Feb. 6. One commercial sale of note, a piece of 23rd Street frontage has changed hands. It looks like the car wash at 720 E. 23rd St. — just west of 23rd and Haskell — has been sold by Rodger W. Henry Enterprises to PKO LLC. PKO, according to state records, is led by Paul Oehlert of Baldwin City. Oehlert, I believe, is the owner of Oehlert Heating and Air Conditioning.
Copyright 2018 The Lawrence Journal-World. All rights reserved. This material may not be published, broadcast, rewritten or redistributed. We strive to uphold our values for every story published.