Derby Invasion boys 61, Veritas Christian 41
Eudora — Veritas Christian's boys basketball team couldn't overcome an early deficit in a 61-41 loss Saturday to Derby Invasion.
The Eagles fell behind 20-8 after one quarter and 38-21 at halftime.
Photo Gallery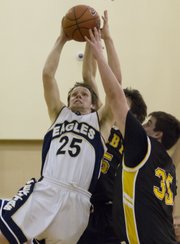 Veritas boys vs. Derby
"We just played a really good team tonight," Veritas coach Gary Hammer said. "They have so many weapons. They're really good shooters, and they play a pressing defense. It was an uphill battle the whole evening."
Elijah Penny and Eric Shin led the Eagles with 10 points apiece.
Veritas (12-7) will travel to Melvern on Tuesday to play Marais des Cygnes.
Derby Invasion 53 girls, Veritas Christian 43
Eudora —The Veritas Christian School girls basketball team outscored Derby Invasion 16-7 in the fourth quarter, but couldn't complete a comeback on Saturday in a 53-43 loss.
Senior Ellen Phillips led the Eagles with 13 points and 12 rebounds. Veritas outrebounded Derby by 12 but missed 11 of 22 shots at the free-throw line.
Veritas coach Kevin Shelton credited junior Alison Dover (eight points, eight rebounds) for keeping the Eagles in the game with her defensive effort.
Veritas (5-14) will head to Melvern next to take on Marais Des Cygnes at 6 p.m. Tuesday.
Copyright 2018 The Lawrence Journal-World. All rights reserved. This material may not be published, broadcast, rewritten or redistributed. We strive to uphold our values for every story published.