Photo Gallery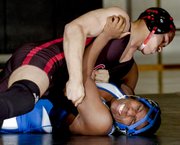 Sunflower League wrestling
Shawnee — Although Lawrence High's wrestling team is ranked No. 2 in Class 6A, the Lions didn't have their full stable of wrestlers available Saturday for the Sunflower League tournament at Shawnee Mission Northwest.
So LHS coach Patrick Naughton wasn't seething when his team settled for second place at the league championships, finishing 21.5 points behind Shawnee Mission East, ranked No. 9 in the state.
With four league champions — Tristan Star (106 pounds), Hunter Haralson (126), Caden Lynch (132) and Reece Wright-Conklin (182) — and five other medalists — Garrett Girard (113) and Brad Wilson (220) took second, Ryan Walter (120), and Macon Ezell (152) placed fourth and Alex Jones (285) finished sixth — Lawrence overcame illnesses, injuries and other problems.
"It's probably the worst week we ever had in the practice room," Naughton said of the days leading up to the league finals.
Girard and Lynch had been sick, 170-pounder Nick Pursel (ranked No. 3 in 6A) was unavailable because of a shoulder injury, 152-pounder Andrew Denning (ranked third in his weight class) was out due to a concussion, and LHS had to scratch its would-be 145-pounder from Saturday's lineup after he didn't show up for practice Friday.
Haralson said the wrestlers didn't let those issues impact their league tournament showing.
"We brought what we had, and we did the best we possibly could," Haralson said after winning his third league championship.
With some patchwork, Lawrence still scored 200 points, 40 more than third-place Olathe North. Ezell contributed 13 team points as a fill-in. LHS left 170 open, while Josh Song became the team's 145-pounder and was able to score five team points.
"Those guys that filled in did a great job," Naughton said. "We would not have been this close had they not come here and did what they did."
Free State was 10th in the league standings, but still had four wrestlers make the medal round. Andrew McLees (132) took fourth, Maurice Jacobs (126) placed fifth, Stan Skwarlo (160) was sixth and Spencer Wilson (182) took second after losing to Wright-Conklin in the finals.
The bout between the rival 182-pounders marked the second time Wright-Conklin (No. 1 in 6A) and Spencer Wilson (No. 2) have squared off. After beating Free State's top grappler 10-6 the first time around, Wright-Conklin scored a 9-3 victory in the rematch.
"I wrestled a lot better," Wright-Conklin said. "I got a shot off this time."
Things didn't go how Spencer Wilson had hoped. He figured the match would be closer.
"I wasn't patient enough, I guess," he said after the loss. "I just kept trying to get to him, and he would score off of that. There's a lot of things I did wrong."
Wright-Conklin (34-2) felt like he controlled the match against Spencer Wilson (27-3) and was happy about that.
"Unfortunately, I've got him two more times this year," Wright-Conklin said while laughing, referring to the upcoming regional and state tournaments.
FSHS coach Mike Gillman thought the match could be beneficial for Spencer Wilson in future rematches.
"When you wrestle a kid a couple times, you start to get a better feel for him," Gillman said.
Lawrence and Free State will return to the mat Saturday, when the Lions host a 6A regional tournament.
Copyright 2017 The Lawrence Journal-World. All rights reserved. This material may not be published, broadcast, rewritten or redistributed. We strive to uphold our values for every story published.