Central Baptist women 66, Haskell 55
The Haskell Indian Nations University women's basketball team outscored Central Baptist College 40-30 in the second half, but lost, 66-55, on Saturday at Coffin Complex in HINU's Senior Day.
Senior Lois Stevens scored 17 points with 12 rebounds, Kayla Davis, had 10 points and 11 rebounds, and sophomore Sydney Jesseppe led the Indians (10-17, 6-6 MCAC) with 19 points.
Photo Gallery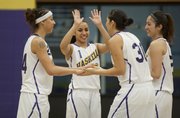 Haskell women vs. Central Baptist
Haskell men 108, Central Baptist 79
Haskell senior Brady Fairbanks scored 41 points, and the Indians' men's team defeated Central Baptist on Saturday at Coffin Complex.
Both Haskell teams play on Friday against Southwestern Christian in Bethany, Okla.
Copyright 2018 The Lawrence Journal-World. All rights reserved. This material may not be published, broadcast, rewritten or redistributed. We strive to uphold our values for every story published.