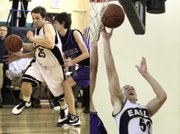 To say Veritas Christian boys basketball coach Gary Hammer was concerned about his team's experience — or lack thereof — entering this season might not give the coach's apprehension enough justice.
With just two starters coming back and no key reserves, at least some compartment of Hammer's brain must have been on the verge of slipping into freak-out mode.
The Eagles coach has been able to rest easy, though, as returning starters Elijah Penny and Thomas Bachert have helped Veritas and its new batch of varsity players get off to a 12-6 start.
"I'm quite thrilled that we've been as successful as we've been this year," Hammer said.
Before the season, he had been worried about all the Eagles lost from their 16-8 team that finished fourth in the 2011 KCAA State Tournament. Hammer didn't think about all he had coming back in senior forward Penny and junior center Bachert, both captains.
"They're my leaders out there," the coach said.
A 6-foot-2 scorer, Penny averages 15 points a game. A rock-solid 6-foot-5 inside presence, Bachert averages 10 rebounds and nine points and has blocked more than 50 shots.
Still, Bachert admitted he didn't know the team would be so successful with so many new pieces.
"Just teamwork is what it comes down to," he said.
The willingness to embrace a challenge, Penny added, hasn't hurt, either.
"We have a group of guys who love to work together," the senior said.
Veritas has three new starters this season: juniors Andrew Currier and Eric Shin and freshman Caleb Holland.
Currier contributes nine points a game, and Hammer called him the "most improved" player on the team, characterizing him as "very steady." Shin has taken over point-guard responsibilities, and Penny has been impressed with Shin's improved work ethic, ball-handling and shooting. Then there is the freshman. Described by his coach as a great athlete who plays hard, Holland, Bachert said, "has stepped up big-time."
"He doesn't act like a freshman out there," the junior said of his young teammate.
Veritas also had benefited from a big addition to the roster during its winter break. That's when 6-1 senior Nick Bennett, known for his prowess on the gridiron, joined the Eagles. Hammer said the star quarterback plays with strength and toughness on the hardwood when he comes in as a back-up post player.
While the Eagles have two other seniors on the bench — Caleb Bond and Taylor Zook — the older guys are outnumbered by underclassmen. Sophomore Brody Robinson and freshmen Peter Shin, Micah Edmondson and Alex Currier comprise the rest of the team.
It's a pretty young group, but Bachert said it works.
"We just all like each other. I don't know what that says about me, because I'm a junior getting along with these freshmen." the big man said with a laugh. "I love them all, man."
How was Hammer to know things would click so well for the coachable bunch? He thought there would be growing pains, but Veritas started the season 3-3 and followed that with a six-game winning streak.
"I think the guys were just learning fast," the coach said.
No one was shocked when the freshmen made mistakes, and Penny liked that Hammer let them play through those miscues and learn from the process. Then again…
"Honestly, he's been forced to, because we don't have a deep bench," the senior cracked.
Still, Penny said the young guys truly have improved because of that experience, and that should only help the Eagles going into the final few weeks of the season.
Veritas is coming off its biggest victory of the season — a 38-33 victory Tuesday at St. Marys — and has its toughest home test at 5 p.m. Saturday, when Derby visits.
Hammer said there is plenty of room for improvement with the Eagles, such as free-throw shooting and passing against a zone, but he hopes the team will be peaking at the right time with the postseason approaching.
Another run at the state title isn't out of the question, either, if you ask the Eagles' captains.
The team never lacked confidence, despite the uncertainty of playing with young role players, and Penny said that approach has been in place all season: "We looked at it as: Let's prove everybody wrong."
Copyright 2018 The Lawrence Journal-World. All rights reserved. This material may not be published, broadcast, rewritten or redistributed. We strive to uphold our values for every story published.