Candy Crowley, CNN's chief political correspondent and anchor of "State of the Union with Candy Crowley," thought the 2004 presidential election would be her last hoorah covering the campaign trail.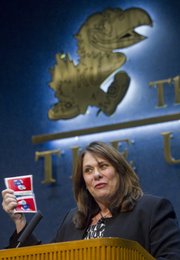 Then 2008 came along with contenders like Hillary Rodham Clinton and Barack Obama, and she couldn't resist.
"I guess they're all my children," said Crowley of the numerous campaigns — including Bill Clinton, Bob Dole and Ronald Reagan — she has covered over the years.
Crowley accepted the 2012 William Allen White Citation Friday. The citation is named after the Pulitzer Prize-winning journalist and former owner and editor of the Emporia Gazette, who died in 1944. Awarded since 1950, it honors "an American journalist who exemplifies William Allen White's ideals in service to his profession and his community." Other journalists who've been chosen for the honor include Jim Lehrer, Bernard Shaw and Bob Woodward.
Crowley engaged the audience at the Kansas Union with her humor and insights into the buildup to the 2012 presidential election.
Crowley ran through the Republican candidates one by one — Mitt Romney, Newt Gingrich, Rick Santorum and Ron Paul — adding her observations.
Romney has staying power,but hasn't been able "to collect the passion," while Gingrich "holds the anger" of dissatisfied conservatives, she said. Ron Paul, meanwhile, will fight to the end, hoping to bolster his political clout. And Santorum, still standing, is proving his conservative values to voters, Crowley said.
In a career covering politics Crowley said it was the unknowns on the campaign trail that have kept her engrossed all these years.
"I don't know who will win anymore than you do," she said.
In the fall, though, Crowley predicted, the election will hinge on the economic climate and whether it improves enough to satisfy the undecided voters.
"Can the White House sell the trajectory of the economy?" said Crowley, whose numerous other journalism awards include an Emmy and an Edward R. Murrow Award.
Audience members lined up, asking Crowley questions about topics ranging from Iran to Herman Cain to Eliot Spitzer's canceled CNN show.
Crowley, whose career at CNN began in 1987, spent the day at Kansas University, chatting with professors and aspiring journalists, sharing her advice for those pursuing a career in news.
While Crowley said she has concerns about the growing aspect of news that requires journalists to perform many tasks, she was impressed by KU's journalism students.
"I always like talking to the journalism students," Crowley said, adding that was the best part of her trip to Lawrence. "And knowing there's this great group coming up that cares about journalism."
Copyright 2017 The Lawrence Journal-World. All rights reserved. This material may not be published, broadcast, rewritten or redistributed. We strive to uphold our values for every story published.