Leavenworth — If Free State High's boys basketball team wanted to hone its comeback repertoire Tuesday night, it might have picked the wrong opponent to try that against.
Photo Gallery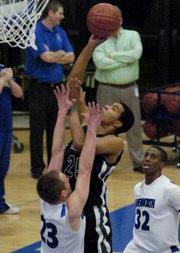 Free State boys vs. Leavenworth
The Firebirds got within four points of Leavenworth on three occasions in the fourth quarter, but couldn't get over the hump and lost 63-56.
It would've helped the FSHS cause, coach Chuck Law said, if his team hadn't played "scared, timid" basketball in the first half. Law said the Firebirds (5-10) didn't block out or play aggressive on the glass in the first half, nor did they go hard to the rim off the dribble like they could have.
All of that, he said, helped the Pioneers (12-3) take a 31-21 lead into the break.
"You can't sleepwalk through a game 16 minutes, (which is) pretty much what we did against the fifth-ranked team in the state, dig yourself a 10-point hole and expect to get back," Law said.
Despite that hole, Free State began to climb its way back in immediately in the third quarter. Senior Brett Frantz buried a three-pointer, Cameron Dabney scored and Cole Moreano hit a layup in transition in the first 1:30 of the second half. Suddenly the Firebirds' deficit was down to 31-28.
The Pioneers, however, were able to stretch that lead back out to 11 by the opening minutes of the fourth quarter. Law said Leavenworth's four-guard attack, with players all capable of driving or shooting from deep, made it difficult for FSHS to come from behind.
"You've got to make them play from behind and make them scramble, and even then it's no cakewalk when you get them in that situation," Law said.
One thing that helped the Firebirds inch back into the game was their full-court pressure. The Pioneers turned the ball over six times in the fourth quarter and those either led to easy baskets — such as a layup for Frantz (10 points) or a three-pointer by Dimitar Gocevski — or extra possessions and opportunities for FSHS senior Gabe Patterson to dominate.
Patterson scored 10 of his 21 points in the fourth quarter, often cashing in after a pass from point guard Shawn Knighton.
Although Free State came up short, Patterson, who went 9-for-11 from the floor, said there were some positive signs from his team in the second half of the seven-point loss.
"I think we stepped up on 'D,'" he said. "We just lost it a couple of times and those few mistakes we made, they capitalized on them."
Of course, FSHS wasn't perfect in the second half. Law said the Firebirds' press looked great at times, but they blew chances to convert off of turnovers at other moments.
"We'll look at game film and want to pull our hair out," Law said.
LHS took a 50-39 lead midway through the fourth quarter, but Free State crept back with six straight points from Patterson.
Later, in a four-second span, Dabney made four straight free throws and FSHS was within four with 2:12 remaining.
Patterson scored his team's next four points before Gocevski's three-pointer with 30 seconds left cut the Pioneers' lead to 60-56. But those proved to be Free State's last points.
Following the loss, Law just looked back at how his team began the night.
"We lost the game in the first half," he said.
At 7 p.m. Friday, FSHS plays at Olathe South.
Copyright 2018 The Lawrence Journal-World. All rights reserved. This material may not be published, broadcast, rewritten or redistributed. We strive to uphold our values for every story published.