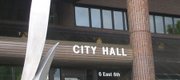 Subscribe to the email edition of Town Talk and we'll deliver you the latest city news and notes every weekday at noon.
News and notes from around town:
• Soon enough, there's going to be a whole lot of jumping going on in Downtown Lawrence. A couple of area entrepreneurs have confirmed they're opening a children's fun/learning center at 1000 Mass., in the former Sports Dome location.
The business is slated to be called Laugh Out Loud Family Zone, and it will include several pieces of equipment designed to entertain kids, and give mom and dad a break from watching the young ones destroy their house with child-like energy.
Oskaloosa residents Christie and Charles Peterson are opening the business. The couple for the last decade operated Challenge Options, a company that specialized in building rock climbing walls and zip lines at locations across the country.
But as the two became parents they discovered a job that allowed them to be with their children more. And now, will they ever be around children. Plans call for the new business to have several kid-pleasing features, including:
•A jump pillow. It is basically a bouncy house without the roof and the walls. (Dang bankers. They're even foreclosing on bouncy houses now?) No, the jump pillow concept eliminates the need to crawl in and out of the structure, which can be difficult for some children with disabilities. (It also can be difficult for fathers who spend their days sitting at a computer.)
•An interactive, computer-generated floor. Not to get too technical on you, but there is this "stuff" that will create images on the floor that kids can interact with. For example, kids can kick back and forth a virtual soccer ball or run through the waves of a virtual ocean.
•A traverse climbing wall, which means kids climb the wall sideways instead of reaching significant heights.
•A children's stage, complete with costumes, and an area for puppet shows.
The business also is contemplating adding a children's karaoke room. That's right. No word yet on whether the waiting area for parents will be soundproof. Also on tap will be a cafe area (something else will need to be on tap, if the waiting room isn't soundproof).
"We've talked to a lot of parents, and there really isn't a lot for children to do in Lawrence, especially when the weather is not very good," Christie Peterson said. "There seems to be a lot of people traveling to Kansas City to go to these type of centers."
Plans call for the business to be open by the end of May. Peterson said she expects rates will be about $7.50 per child, per day.
Doug Brown of McGrew Commercial brokered the real estate deal for the business.
• If your idea of a fun center is a golf course, a lounge and hopefully no children's karaoke, then maybe the Alvamar Country Club is more your speed. Well, some of the faces have changed at that social hotspot. Dick Stuntz, the longtime golf course superintendent who later became general manager for the entire operations, has left the club. Stuntz had been with Alvamar for 29 years. But for the last few months he technically was an employee of Billy Casper Golf, which took over the day-to-day operations of Alvamar in 2011.
If you remember, Alvamar had placed itself on the market and thought it had a deal to be purchased by a golf course investment group. That group was going to use Billy Casper Golf to manage the facility. Well, the deal fell apart and the course and club are still owned by Alvamar Inc., I'm told. But the Alvamar board decided to create its own contract with Billy Casper Golf to run the operations.
I put a call into Stuntz and haven't yet heard back, but Howard Kastl, the past chair of the club's executive committee, said it is his understanding that it was completely Stuntz's decision to leave the company.
"It wasn't their wishes that he go," Kastl said.
Also leaving the club is Cindy Brinkerhoff, who had spent 30 years with Alvamar, most recently as the club's office administrator. Kastl said it is his understanding that both of the longtime employees leaving at once was coincidental.
I do have a call in to an Alvamar Inc. board member to check in on other club news. For instance, I still hear that making both sides of the 36-hole course private — currently one side is private and one is public — is still an option that is getting some discussion. If I hear any other news, I'll pass it on.
I'll also pass on some of these fun statistics that Stuntz shared in his farewell message to the club. During his 29 years with Alvamar he:
Managed about 3,000 employees
Helped provide 1.5 million rounds of golf
Changed 400,000 cups in the greens.
Mowed 300,000 greens
Spread 4,000 tons of sands in bunkers. (We could have done with less sand, Dick.)
Used 1.5 billion gallons of water to irrigate the two course.
One number he didn't provide is the number of lost golf balls he found. His calculator probably began to smoke when he tried to do that calculation.
UPDATE: I did get ahold of Stuntz this afternoon. He said he chose to leave Alvamar after several friends in the golf industry had been "tugging at his arm" for quite awhile to look at some new ventures.
"I'm really excited about some of the opportunities I'm pursuing," Stuntz said. "But I think I did shock the folks at Alvamar and at Billy Casper Golf."
Stuntz said most of the deals he is working on are in the golf industry and mainly in the Kansas City area.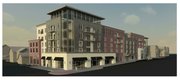 • We reported last week the development group looking to build a hotel/apartment building at the southeast corner of Ninth and New Hampshire had significantly changed its design for the project. Specifically, it made the eastern edge of the building one story shorter in hopes of winning over neighbors who have expressed concern about the height of the structure. Well, at the time, Lawrence-based Treanor Architects didn't have any renderings of the new design to share. But they do now. Click on the rendering to the right and it will become larger. In addition to the shortened back edge of the building, the portion closest to Ninth and New Hampshire has added a glass story at its sixth level. That area will be a 4,000 square foot restaurant. Several other changes also were made to the design..
The city's Historic Resources Commission is tentatively scheduled to consider the new design at its Feb. 16 meeting. If HRC commissioners approve it, the project won't need to go to the City Commission for a blessing. But, if the HRC denies the design, city commissioners will get a chance to weigh in.
It will be interesting to watch, the height of the building has been a big concern of neighbors to the east. But as the building has shrunk in height, leaders of the East Lawrence Neighborhood Association are now reminding folks that the height was never the only issue. Leslie Soden, president of the East Lawrence Neighborhood Association told me that she believes many residents have a problem with the hotel use — an extended stay Marriott — itself.
"Part of the reason we don't like the building is because it is a hotel," Soden said. "We want some neighborhood services. Downtown seems like it is becoming more tourist-oriented. We don't want a downtown that just seems to be serving tourists."
Those comments won't go over well with developers, who felt like they had a chance to gain some neighborhood support if they changed the design of the building. One thing that won't change is the hotel use. It is driving the bus on this one.
My guess is the changes are done. Now the voting happens.
Copyright 2018 The Lawrence Journal-World. All rights reserved. This material may not be published, broadcast, rewritten or redistributed. We strive to uphold our values for every story published.