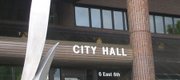 Subscribe to the email edition of Town Talk and we'll deliver you the latest city news and notes every weekday at noon.
News and notes from around town:
• A longtime downtown business has headed west. Headmasters indeed has moved its salon business out of the old multi-story building at 809 Vermont St. The company has moved into significantly smaller space at 1410 Kasold Drive in the Orchards Corner shopping center. The move ends 38 years of Headmasters operating in downtown.
"It is just time for different things," said Patrick Toal, an employee and spokesman for the salon. "We're going in different directions. The location is more central, parking is free, and the building is just one level."
The business is keeping its designation as an Aveda salon. The business also continues to be owned by Micki Colgan. No word yet on whether a new tenant has been found for the Vermont Street building, which is owned by landlord Jim Grimes.
• If you are like my wife, you've been known to get into some fisticuffs in the fruit aisle of the grocery. (She doesn't really like fruit that much, but she does like to ram people's grocery carts.) Well, there may be a new option in the future. A community fruit tree orchard is being planned along the Burroughs Creek Trail in East Lawrence. The idea is part of the city and county's Common Ground farming program that we reported on several weeks ago.
The program involves allowing individuals or organizations to grow crops on publicly owned land that is currently not being used for much. An advisory board recently has recommended that the city approve four projects for the program's first year. They are:
A community orchard by Skyler Adamson and the Lawrence Fruit Tree project. The site will be near 13th and Garfield streets in East Lawrence. According to the application, the orchard will be open for picking by all community members. The Lawrence Fruit Tree project also will hosts frequent workshops at the site to teach community members about fruit production.
A children's community garden at John Taylor Park at 200 N. Seventh St. in North Lawrence. The garden is proposed by Justina Gonzalez, and it will be operated in partnership with the nearby Ballard Center.
A neighborhood garden at 1304 and 1315 Pennsylvania St. The garden will be run by Michael Morley and the Sustainability Action Network. The project will include frequent classes on gardening and food preservation.
A larger scale farming operation near the Kansas River levee at Eighth and Oak streets in North Lawrence. The project will be run by Johnson County Community College's Sustainable Agriculture Program. JCCC officials are working with the Community Mercantile's Education Foundation to supply food grown at the site to Lawrence public schools.
City commissioners at their Tuesday evening meeting are expected to direct staff members to begin negotiating formal agreements that will allow each of the groups to use the city land as part of a low-cost lease.
Originally organizers of the Common Ground program had envisioned a larger program. The group identified 14 sites across the city and several in rural Douglas County that they said were eligible for the program. But upon further review, several of those sites were deemed to be more difficult to farm than originally expected. The program did attract applications from 14 different community members or organizations. The group said it wants to look at ways to expand the program to other sites in future years.
• If fruit is not your thing, maybe Kibbles 'n Bits is more your speed. Believe it or not, Kibbles 'n Bits dog food may be the Lawrence product that reaches more households than other — even more than Kansas basketball. My understanding is that the Lawrence Del Monte plant at 727 N. Iowa St. is the main production center (I think only production center) for Kibbles 'n Bits dog food. Well, there are signs that the Kibble business is good.
Del Monte has filed a site plan to add 3,000 square feet onto the 250,000-square-foot plant. My understanding is that the addition won't create many new jobs, but rather will allow the company to install some additional packaging equipment. What I've heard is that the company is working to make the packaging for the dog food more environmentally friendly. But that is all unconfirmed.
A spokesperson at Del Monte hasn't returned my calls for several days. Who would have thought the dog food business is so secretive. Maybe they're afraid we'll actually figure out what the heck Kibble is.
Copyright 2018 The Lawrence Journal-World. All rights reserved. This material may not be published, broadcast, rewritten or redistributed. We strive to uphold our values for every story published.