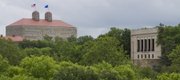 Subscribe to the email edition of Heard on the Hill and we'll deliver you the latest KU news and notes every weekday at noon.
Your daily dose of news, notes and links from around Kansas University.
• Though KU's provost told me last week that KU was seeking to make things easier for transfer students, that isn't always an easy fight to win.
The St. Louis Post-Dispatch filed this great article on the struggle many transfer students face. Some are fighting to get their community college courses counted at a four-year school. As the story says, an English class accepted at KU might be rejected by the University of Missouri.
Universities are increasingly looking to transfer students, the article points out, to reverse declining enrollments largely brought on by changing demographics resulting in fewer high school graduates.
I know KU has articulation agreements with many community colleges, but I don't have a great sense of how these are really working today.
Here's one example of an agreement with Johnson County Community College for KU's popular UKanTeach program, which gives students a degree both in a math or science field along with a high school teaching license.
This is an interesting issue, and I may take a deeper look later on, so if you have thoughts on it, please send them my way.
• A former assistant dean of libraries for information and instructional services at KU has been named as university librarian at DePaul University.
Scott Walter left KU for a position at the University of Illinois at Urbana-Champaign, and also had been interim assistant director of libraries at Washington State University.
He will begin in his new post on April 30.
• KU should have more than a few smart folks to recruit from in Douglas County if the quality of people in the 2012 Douglas County Spelling Bee is any indication.
I enjoyed serving as the pronouncer for the event this year, though I had a few kinks to work out.
One speller in particular won over the crowd (and me, too), when he playfully wagged his finger at me after I misheard his attempt at a word and told him he'd spelled it incorrectly.
The judges quickly corrected me, and he went into the finger-wagging bit and made sure I felt a little bit of the angst he felt when I made him feel he'd been unjustly booted from the bee. We both had a good laugh over it.
The bee lasted 14 rounds, and I was very surprised that the competitors were spelling the words that they did, navigating traps that would have fooled me in many cases. They had obviously prepared very well.
• Wag your finger at me all you like at ahyland@ljworld.com. If tips for Heard on the Hill accompany those finger-wags, all the better.
Copyright 2018 The Lawrence Journal-World. All rights reserved. This material may not be published, broadcast, rewritten or redistributed. We strive to uphold our values for every story published.