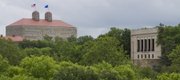 Subscribe to the email edition of Heard on the Hill and we'll deliver you the latest KU news and notes every weekday at noon.
Your daily dose of news, notes and links from around Kansas University.
• You never know what you'll find on a trip to the provost's office. Well, first and foremost, you'll find a voluminous amount of literature. I came to chat about President Obama's ideas for college affordability, and I did that (check out that story later), but I also left with a bunch of pamphlets and other materials. Including one on commencement.
That got me thinking about a burning question I had. Namely, if any decision had been made about who would deliver the commencement address. At KU, chancellors have given the speech since time immemorial. But, as part of a new initiative, KU will award four honorary degrees for the first time. So that could signal a big change away from the way things used to go at commencement time.
So I called Charlie Persinger, KU's director of university ceremonies and special events and KU's guru on all things commencement.
The plan for now — and this could still change, he told me — is to have one of the four honorary degree recipients deliver a traditional commencement address. Plans currently call for the chancellor to speak, too, but she would only make "a few remarks."
There won't be two big addresses, Persinger told me.
And, of course, I asked which of the four honorees — Ford CEO Alan Mulally, former Republican U.S. Sen. Bob Dole, former FDIC chairwoman Sheila Bair or choral composer Kirke Mechem — would be giving the big speech.
The chancellor has sent an invitation to one of them, Persinger said, but hasn't heard back. The programs get printed in March, so we'll surely know by then.
• My trip to the provost's office also cemented this for me: for those interested in seeing how KU does in addressing its declining enrollment issue, it's all going to be about the yield.
When higher education folks start yakking about "yield," they're talking about the percentage of students who are accepted to the university that actually enroll.
And it's going to be a big part of whether KU can reverse its declining enrollment trends.
Sitting in the provost's office, Provost Jeff Vitter told me that applications to KU are up 30 percent, largely because of the new scholarship initiatives the university unveiled this year.
That's peachy keen, but the trick is going to be in the yield. Vitter told me as much, too. All those applicants don't mean much if efforts don't result in more students in classrooms next fall.
• Another thing I picked up in the provost's office was the 2010-11 annual financial report. And that's always a source of a trove of goodies.
For example, where else would you find out that the value of all the works of art owned by KU — including the Lawrence, Edwards and KU Medical Center campuses — comes to precisely $17,266,971?
It also breaks down KU's $403.8 million in revenue bond debt outstanding, in each individual project. (That figure includes, by the way, the debt incurred by the athletics corporation).
Lots of housing projects, a new pharmacy building here, a renovation to the Multidisciplinary Research Building there and you can get to $403.8 million before you know it.
That's just a quick scan of the report. If you have questions you think might be covered in there, let me know, and I'll see if I can find the answers.
As a parting thought — and I have no idea whose idea this was — but, in a few headers, the report appears to use the font Comic Sans. And that looks kind of strange in a financial report. But hey, I don't get paid to make those kinds of calls.
• I hear Chancellor Clarke Wescoe used to sing during his commencement addresses. I might come and personally sing Heard on the Hill to you if you'll send me a tip at ahyland@ljworld.com.
Copyright 2018 The Lawrence Journal-World. All rights reserved. This material may not be published, broadcast, rewritten or redistributed. We strive to uphold our values for every story published.