Topeka — Gov. Sam Brownback, a Republican, and scores of Republican legislators are the focus of an investigation into alleged violations of the state law that is aimed at ensuring that policy debate occur in the open, it was revealed Friday.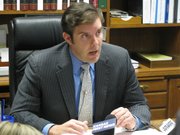 Acting on a complaint by the Topeka Capital-Journal, Shawnee County District Attorney Chad Taylor opened a probe into whether dinners that Brownback hosted at his official residence, the Cedar Crest mansion, for GOP legislators were in violation of the Kansas Open Meetings Act.
Brownback said there were no violations. "We will completely cooperate with any investigation, and I'm completely confident that they will show no wrongdoing," he said.
Taylor said his office planned to interview legislators who attended the dinners, and probably Brownback too.
"It is going to be a painstaking process," Taylor said.
The dispute is over a series of seven dinner meetings in January attended by only Republicans and closed to the public.
Generally, the Kansas Open Meetings Act prohibits a voting majority of a legislative body from discussing government business without providing public notice or access to the meetings. Violators of the law can face up to a $500 fine per incident.
Brownback's office conceded Friday that a majority of some legislative committees were present at some of the dinners.
But Brownback's Chief Counsel Caleb Stegall, in a letter to Taylor, argued that Brownback and his staff took precautions to make sure there were no violations of KOMA by reminding legislators they were prohibited from discussions by a majority of any committee about affairs of that committee.
Stegall said that at the meetings, Brownback went over policy points of his State of the State address.
"The dinners hosted by the governor at Cedar Crest were for the purpose of socializing and to give the governor an opportunity to inform the legislators as to his policy agenda for the year, and neither of those purposes violates KOMA," Stegall said.
But House Democratic Leader Paul Davis of Lawrence said that scenario was dubious. "I find it hard to believe the governor made his pitch and legislators just sat there stone-faced and didn't say a word. I imagine there were questions back and forth. Those things need to occur in a public forum," Davis said.
Taylor said his investigation will try to determine what happened at those meetings. He said Brownback is not subject to KOMA but legislators are.
In a letter sent to Brownback and all 165 legislators, Taylor ordered them "to preserve all potentially relevant evidence including but not limited to documents, records, tangible items and electronically stored information."
In that letter, Taylor states: "At one or more of these functions a quorum of a governing body was present and the complainant alleges that public business was discussed. Taken as true, the complainant has alleged facts sufficient to find that one or more of these state officials has violated KOMA."
The complaint alleges the meetings did violate KOMA.
"We are aware that the governor's office contends the meetings are social occasions, but also aware that many legislators admit that the business of the legislature was discussed in nearly all instances," Michael Merriam, an attorney representing the newspaper, said in the complaint.
"Indeed, it is difficult to see any legislative reason for a majority of any legislative committee to meet with the governor, especially during the legislative session with the governor's political agenda pending before such committees," Merriam said.
Senate Republican Leader Jay Scott Emler, R-Lindsborg, said he attended one of the dinners and that Brownback essentially went over positions he outlined in his State of the State speech. Emler said there was no discussion of particular bills.
Republicans also said it has been common practice for governors to invite legislators to Cedar Crest.
But Senate Democratic Leader Anthony Hensley of Topeka, who has served in the Legislature for more than 35 years, said previous governors did not invite a majority of specific committees. For example, he said, former Gov. Kathleen Sebelius would invite legislators in groups alphabetically.
Taylor, a Democrat, was asked to respond to expected criticism that the investigation was partisan in nature. Taylor said politics had nothing to do with it. Earlier, the Kansas Republican Party issued a statement saying that Democrats were trying to distract Kansans from more important issues.
Under the law, Taylor said, since the events in question happened in Shawnee County, the investigation had to be handled by either him or Kansas Attorney General Derek Schmidt, a Republican.
Taylor said he discussed the issue with Schmidt and it was decided Taylor would investigate because if there are any fines levied against legislators, Schmidt may have to defend them.
Copyright 2018 The Lawrence Journal-World. All rights reserved. This material may not be published, broadcast, rewritten or redistributed. We strive to uphold our values for every story published.